'It's a game of two halves' is probably the most famous football analogy out there, but for the players of Aberdeen FC Ladies' teams, it really does apply. Without their many sponsors, their 15-plus teams, with ages ranging from Under 7s to Under 19s with a clear link to AFC Women's Senior 1st team, just wouldn't be able to train or travel for competition. Funding in the form of monetary donations or team strips ensures that the two hundred and fifty club members continue to enjoy and promote the sport across Grampian and beyond.
Aberdeen FC Ladies, like many amateur competitive sports across the UK, rely on their non-playing supporters. Parents and partners are clearly the players' number one fans but ensuring the skills are learned correctly are the bank of more than forty coaches who dedicate their time to the teams. Nicky Morrison coaches the Under 13-year-old 'Colts' team and has been sharing his football knowledge for more than four years. Nicky is more than aware of the impact sponsorship from local businesses means to community sport especially during a year of pandemic lockdowns and isolated families:


"When we returned to socially distanced training after our first lockdown, we asked the girls the usual questions during the coaching sessions and instead of a sea of raised hands we had a group of children who had retreated into themselves and didn't want to answer. It was so tough for them, lockdown has had a massive effect on the children. Community football impacts so many young lives in so many ways, never mind the sporting skills and health benefits, it's the communication skills, learning how to be a team player, accepting how to win and lose, there are so many advantages.
MODS sponsors our team, the U13 Colts, the simple thing that MODS does for us is that we don't have to worry about the other side of our sport. We don't have to worry about the kit. We'll go to MODS and say, those sweatshirts that were bought a year and a half ago are gone, all the kids, during the lockdown, have grown 6 inches, nothing fits and they're more than happy to help. MODS sponsorship, like all the other teams with their sponsors, just takes the pressure off us, we don't have to worry about where we are getting our team strips and clothing from. It takes that pain away. The girls and their parents are very appreciative for this support.
If we didn't have sponsorship, then nothing would happen. Because you'd need parents to be paying a larger membership every month and for some parents, that's ok but for many, especially after COVID, it's just not possible, and the girls would not be able to take part in this sport. Without having someone or a company sponsoring team clothing, travel costs and equipment, then you just cannot survive as a grass-roots team. If you look across the Aberdeen area, there must be over 100 juvenile teams, supporting well over a thousand players, if there were no sponsors for those teams, how do you supply them with kits, jackets, and bags to play at home and away? You just can't do it."
Win, Win
MODS Operations Manager in Aberdeen is Matthew Bell. He is keen to encourage any company to do their part in supporting the local community:
"When we received the email from the Coaching team, we were more than happy to help. Most of us here in the office have children and know how expensive it is for them to take part in club activities. We also have a lot of football fans in the office, so buying some cool kit for the Colts was an easy yes for us. We are more than happy to help, and we've sponsored their strips, tracksuits, jackets and found some kit bags for them too. And I believe they are doing really well as a team; it's a win, win for everyone".
A Pathway to The Premier League
The Club was formed in 2011 from an amalgamation of several smaller ladies teams. Since then, it has gone from strength to strength starting with young players learning the basics from age six years up and competing in weekly 5-a-side school festivals. As the girls progress in age and ability, they move up through the teams with the goal, for many, to be in the Under 19s National Performance team where they compete against Scotland's top women's clubs. A number of dedicated and talented athletes, home-grown by Aberdeen FC Ladies, have even made it to the premier league of female football within AFC Women's 1st team squad.
Game Changer
"The pathway goes, under 7s, 9s, 11s, 13s, 15s, then it splits to National performance pathway or a Recreational pathway. Under 15 National Performance players would then progress to the Under 19 National Performance and then the next step is the women's first team which is run by Aberdeen FC.
So that's the carrot for our girls. Our kids are all 12 and 13 and if they really want to play, this is the time when the women's game is basically exploding, and this is the time where it's going to be the opportunity for these girls to go and have a career playing football if they want to".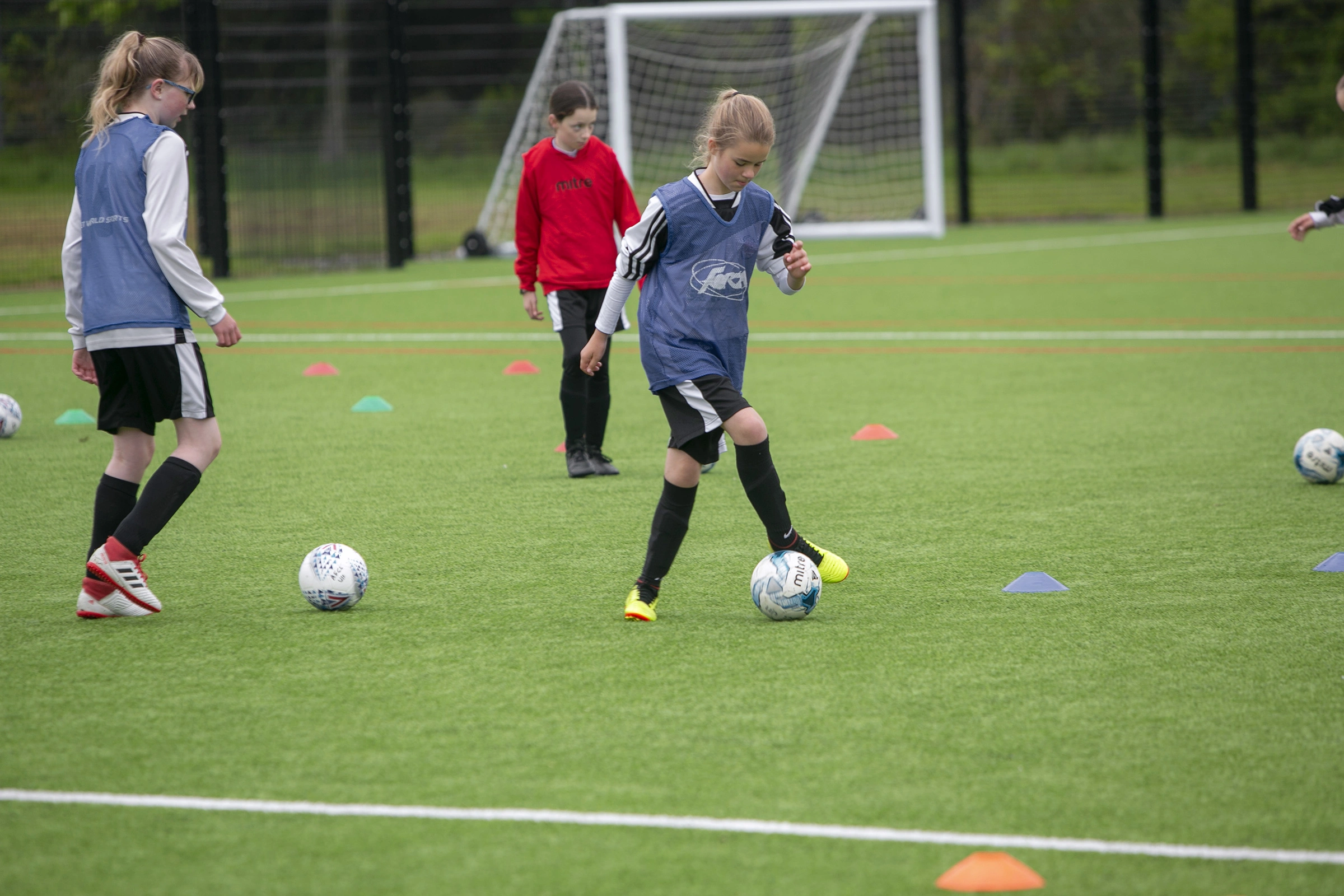 If you did not fully appreciate the popularity or the recognition this sport is attracting, you will be surprised to hear that Aberdeen's professional football club (AFC) signed an agreement with Aberdeen FC Ladies at the end of 2018. This deal sees the Women's 1st team to be fully under the remit of AFC resulting in a clear career pathway of progression from the Under 7s team all the way to the top; a game-changer for any budding football fan says, Nicky:
The Big Time
"Women's football as a recognized professional sport really hit the headlines around the time the World Cup was in France in 2019 and it just took off. It was unbelievable. It was like the blue touch paper had been lit under the women's game. And then lockdown happened, and it took a step back. But there's a Champions League the same as there is for men's football, there's a World Cup, there's a European Championship. You've got Scotland players that are in the British Olympic squad. It's a massive game now and there must be more than sixty teams in the Aberdeen and surrounding North region.

There's not much of a transfer market in the women's game yet, but there are some fees that are being paid for the top women's players. The British teams that are at the top of the game would be the likes of Chelsea, Manchester City and Arsenal. Scotland is catching up with Glasgow City being number one, which is quite nice because they're not affiliated to any of the normal football giants in Scotland such as Rangers and Celtic who have their own full-time women's teams. Female football is going to go big time".
And to ensure young talented football players continue to have the opportunity to develop and perform on the pitch, corporate community support will also have to 'go big' and play their part in this up-and-coming game and help girls, like those in AFCL Colts, achieve their personal goals.