The youngest member of Team MODS is thirteen-year-old Eihli Smith. He is not your typical teenager who prefers to stay in his room playing computer games, this young man will be found clocking up the miles racing his Go-Kart in competitions across the length and breadth of Scotland.
Eihli's father is MODS Project Manager, Scott Smith, who started searching for sponsorship as it was clear Eihli's passion was becoming one to watch on the motor sport circuit. As Scott explains, Eihli's hidden talent was discovered while on vacation in the latter part of 2019.
"He was always into football and all other physical sports, we went on holiday to Majorca, and were on a little go-kart track where he was getting on really well in the junior karts. We went back a couple of nights later, I asked if he could join in with the adults. The track manager was a bit hesitant saying 'oh he's a bit young to be joining in with adults'. I convinced him in the end to let him race with us and the other ten adults on the track; Eihli just beat everyone; we were all astounded.

I thought to myself, he's really got something here. I bought him an inexpensive second-hand kart and took him up to our local track and threw him in the deep end and he just aced it. So yes, it all took off it from there.

It's interesting to watch him race against other children his age, they're quite erratic, overcompensating with the steering, throwing the kart into the corners. Eihli does his own thing, he's really smooth and is managing to progress really fast. It's costing me a fortune, but you know what, it's one of these things that he really enjoys, so it doesn't matter at all. It's a lot of travelling but he's only a couple of years left racing karts. Once he gets to sixteen or seventeen that'll be him away with cars and no doubt, I will have lost all my connection with him, but right now it's really enjoyable for us to have a fun father and son activity together".
Track-side Heart Stopper
For the uninitiated, Karting is not for the faint-hearted! The youngest 'Bambino' class is for children aged between 5 and 8 years and 'Cadet' Class for 8- to-12-year-olds. A transitional 'Mini Max' year follows, where Eihli is positioned at the moment before his step up to 'Juniors' and the 13-to-16-year age range.
These four wheeled, open karts have no roll-cages and are just inches above the ground. Eihli's kart has a 125cc engine and can reach speeds in excess of sixty miles an hour. As Scott explains, the speed is exhilarating but for many of the parents watching track-side, it's a heart-stopping experience.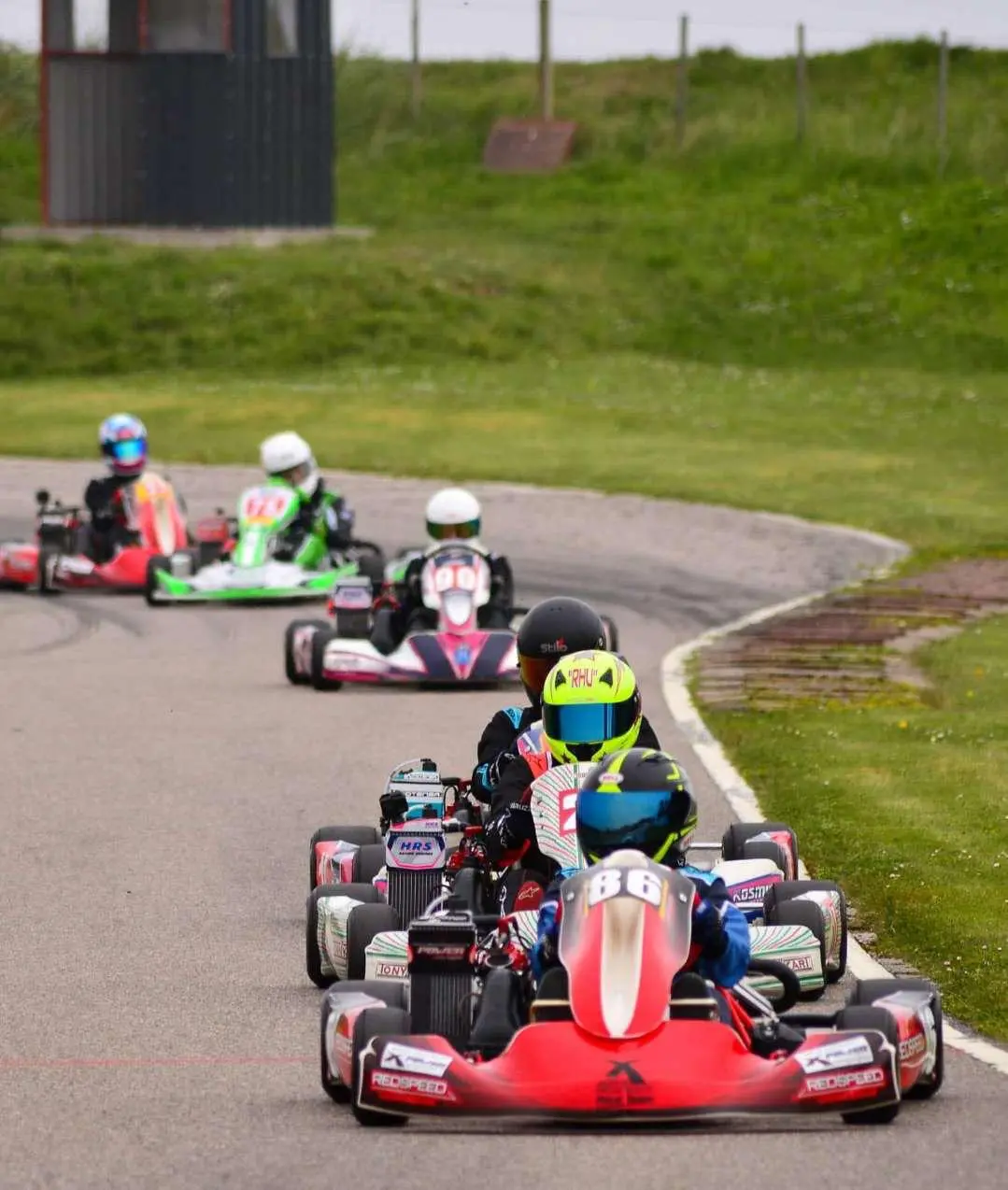 "I've tried to race against Eihli, but he annihilates me completely and his lap times are often five seconds or more, faster than mine. For his age range and kart engine size, the top speeds are in the low sixties but trust me, that's very fast, especially when you're so close to the ground. Eihli's mum doesn't like to watch him race, she says she just can't breathe watching him whiz round the circuit".
Formula One Foundations
There are numerous karting tracks across Scotland ranging in length and difficulty. Scotland's famous Formula One driver, David Coulthard, started racing with karts. In fact, many of the world's Formula One drivers such as Hamilton, Schumacher and Raikkonen have caught the racing bug thanks to this sport. Eihli has the same aspirations, however as Scott admits, budget size has a lot to do with reaching pole position.
Lad And Dad Team
"I'm just not sure if my wallet will be able to support him as karting is serious business and the top drivers and teams are only successful if they have the financial back-up behind them. Eihli is at Club level right now and classed as an amateur. We are a 'Lad and Dad' team, home-grown really. We are concentrating on the Scottish Championships where he recently came fifth. And we have ventured down south to England to compete against British Championship drivers. However, we were up against teams with huge sponsorship and thousands of pounds are pumped into a fleet of karts with all the latest tech, so it was very hard to compete against them. Eihli didn't get placed but there was only a 0.7 second difference in pace so he was really happy with his performance, especially for his first time against the some of the best in the UK.
Sponsorship Supporting Sport
I've just bought Eihli a better kart and now have a trailer to transport all the equipment to the various venues. Our sponsorship from MODS is a huge help, without outside support, children like Eihli would never have the opportunity to compete and maximize their potential. Sponsorship helps with the extras that you need, such as new and wet-weather tires for every race, safety equipment and all the spares for the kart itself, it all adds up".
Circuit Superstar
All the effort from Scott and his sponsors has allowed Eihli to prosper and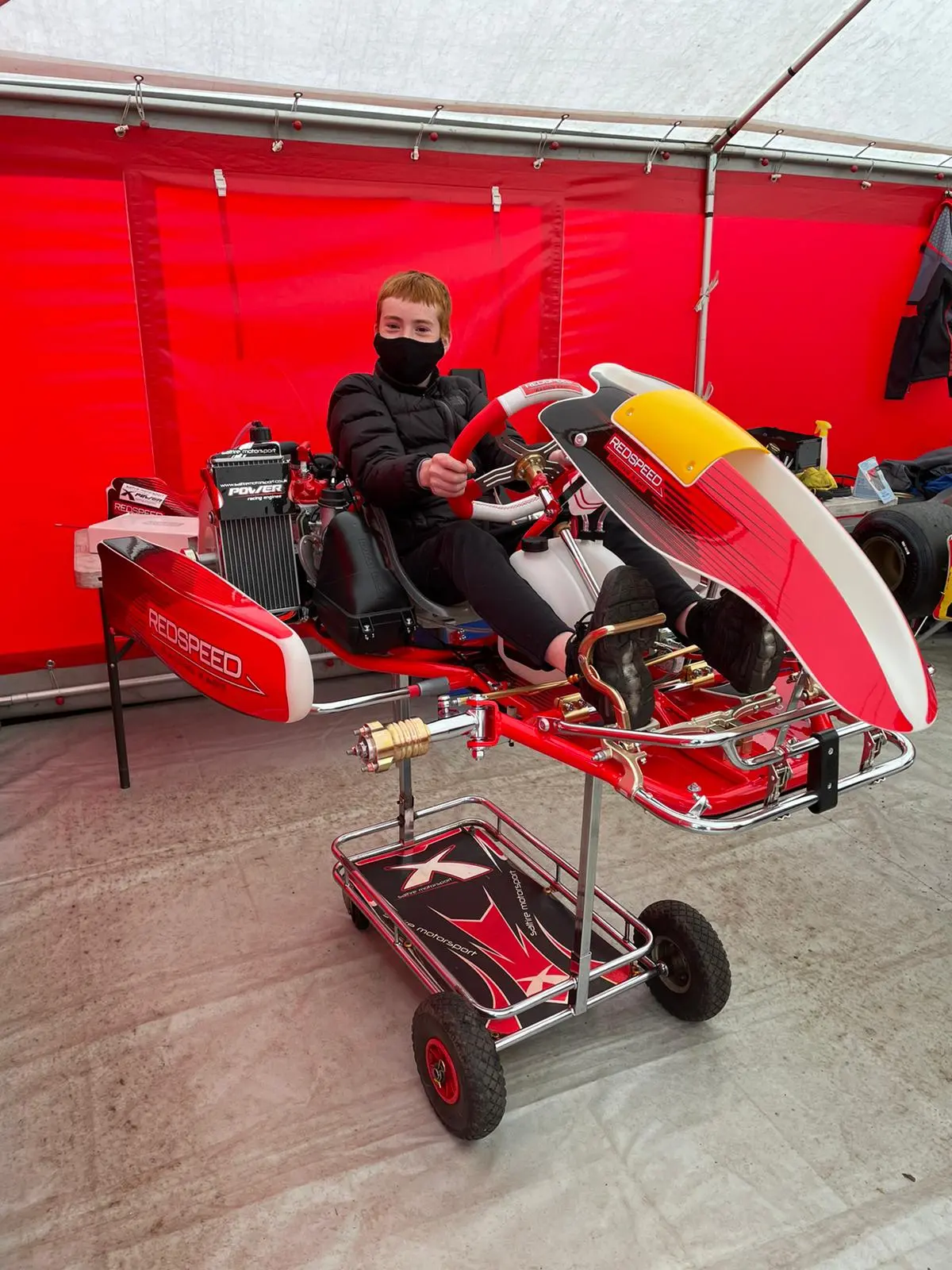 excel in his new sport. He is leading the championships in points in two out of the three clubs where he regularly competes. Eihli is also recognized as the Top Novice in his category in the recent 'Scottish Super Series', a serious achievement for this young driver. And what is even more incredible is that Eihli, who is classed as a 'novice' and therefore starts every race from the back of the grid, is always amongst the first across the finish line and past the checkered flag. Eihli Smith – is very much a motor-racing champion in the making.
Interested in more updates and amazing things happening over here at MODS? Follow us on
!