Andy McMinn - Inside MODS Series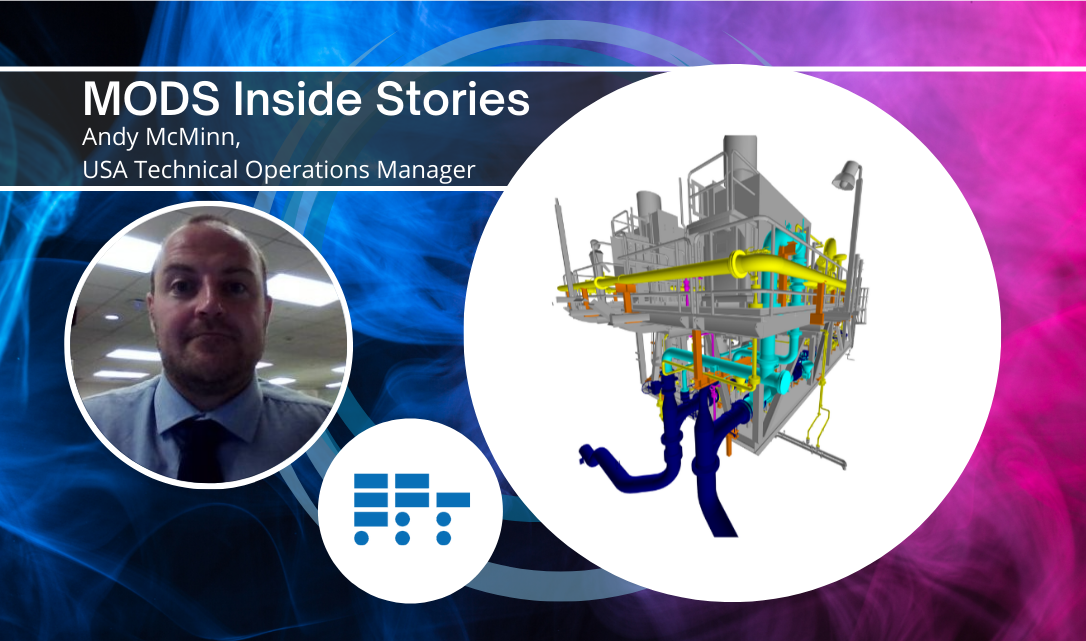 Heading the MODS team in the USA is Andy McMinn. MODS partnership with GIS (Grand Isle Shipyard), a full-service EPC contractor based out of the southern states and Gulf of Mexico, has developed, and grown for more than decade. MODS makes up one of GIS' twenty-one service lines and Andy heads the division as Asset manager.
Originally hailing from Aberdeenshire in Scotland, Andy has now made a home in Houston, Texas for his family and himself. For the past six years, it has been Andy's job to integrate MODS software solutions into the many areas of GIS' service lines. It has been a steady journey of digital transformation that first started with a Dimensional control project:
Quick Steps Towards Digital Transformation
"We were first asked to come to the states to assist on the Mad Dog rig in the Gulf of Mexico. It was during this project that Operators and contractors saw the benefits of our software in conjunction with our dimensional control and laser scanning services.

It wasn't long before GIS took the next step and asked us to integrate our Materials management system. They immediately saw how it transformed their processes as the MODS systems helps visualize a project. It helped them track materials and equipment and gave them advanced warning of any delays, and most importantly, time to make alternative arrangements.

By allowing their contractors and suppliers access to the system, they had better communication; this transparency of project status for all project stakeholders was revolutionary and helped keep their project schedules on time and on budget.
Permanent Team
After that massive impact on their traditional processes, GIS were quick to look at where else our software could be implemented. And then it was that's when it started growing. What else can we get the software to do? You know, we've got guys that do planning for these clients, can we get the software to help with that? From that point onwards, it made complete sense to base a permanent team here and I have had the pleasure of introducing and integrating our software solutions across all the divisions and seeing first-hand how it has revolutionized practices and processes for the better."
Andy has been predominantly Houston-based, making regular trips to the GIS offices and fabrication yards in the state of Louisiana, the original home of GIS. His work does take him off-shore into the Gulf of Mexico as GIS has a long list of clients who they have served over several decades.
Specialist Team
Andy's small MODS team is involved in another unique service, only offered in the Americas. The Commissioning and Integrity (C&I) team take their combined physical and digital skills out into the field, working alongside the GIS construction teams. The C&I team support construction project operators with their testing and maintenance skills in areas such as Joint integrity, also known as Flange management, and commissioning preparation. Their combined abilities of practical skills and digital technology ensures commissioning standards are reached, and handover is achieved on time, at the safety and quality standards required.
Trust & Credibility
"At MODS we collaborate with our clients and are constantly looking to improve and adjust the software and the user-interface so it's a perfect fit and functional for all of their requirements. We've just launched an upgraded version of our software for GIS, and we are in the process of training their teams across the region. Like anything new, we have to work out, any queries, but this is never an issue when you work closely with an organization like GIS, our relationship with them is seamless and we have built up trust and credibility over the years. GIS have fully embraced the change to digital practices and are progressively working towards ensuring their business is ready for the future, it's an exciting company to be involved with."
Andy's relationship with MODS has spanned more than twelve years, starting his journey into the Energy sector in Aberdeen at MODS head office before working across Europe and then into America.
After leaving school Andy studied Architectural technology and gained valuable experience in technical drawing as a draftsman and designing timber-framed buildings before being asked to join MODS where he started in laser scanning and computer-aided design, used for digital twin creation. His skills and first-hand experience using MODS software made him the first choice to lead the USA team.
Home Life & The Hounds
However, it is not all work-time and no down-time for Andy who lives with his wife and three teenage daughters. Andy is a keen football supporter and has a special interest in the Scottish team, Hearts of Midlothian. He also enjoys spectator sports in and around Houston and has 'threatened' to take up golf with his friends!
However, there are two very special, four-legged friends that Andy spends his free time with, and they are his dogs. Blake, a nine-year-old black Labrador the family brought with them from Scotland and Blanco, a yellow Labrador and the family's latest edition. Blanco, who is now two years old, weighs in at more than ninety-five pounds, a weight combined with strength that Andy is more than aware of.
"Yes, Blanco is a big boy, and he does get excited as he is still young. I went to catch him a few months back, but he pulled away and my tendon ruptured in my arm. I'm all healed up now, and of course Blanco is non the wiser after the incident, but it was a good reminder of how strong these dogs are even when they're just playing around. Just as well they are very much loved and a big part of our family at home."