Data Integrity: The Flint That Lights the Flame of Digitalization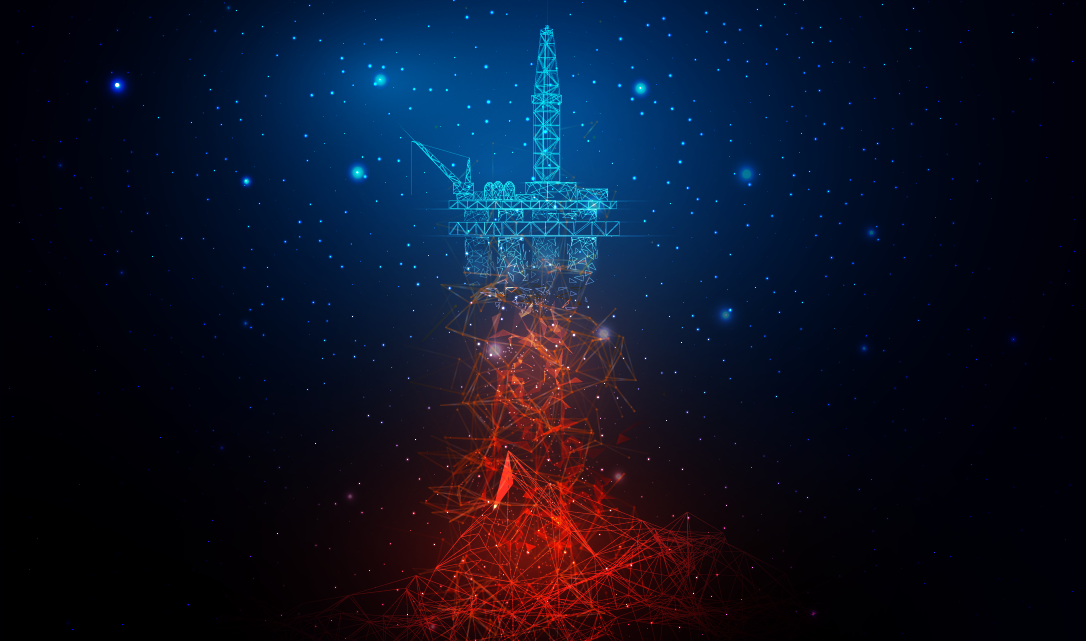 In most sectors these days from healthcare to manufacturing, from retail to finance, there's lots of chatter revolving around the implementation of advanced digitalization processes, including Artificial Intelligence (AI).
Engineering, Procurement and Construction (EPC) businesses are no exception. As the technology advances behind energy-sector and other complex facility development, operation and maintenance, so too should the EPC approach to construction execution.
The problem is that these industrial-leaning sectors lack digital maturity, posing a challenge as EPC entities are tasked with developing bigger, less wasteful, more advanced, more modern, more nuanced facilities.
The answer lies in a four-letter word, and not one that most immediately comes to mind when clutching paper-based design plans, fabrication specifications or work packs. Data: the potential of which is contained in those stacks of paper. When information is digitized, eliminating the need for reams of paper, it becomes data.
Without data, advanced digitalization is impossible.
No Data, No Digitalization
Digitalization uses digital technology to change the systems and processes driving businesses in a way that fundamentally changes the business and/or operational models.
Part of a broader Business Intelligence (BI) strategy, digitalization hinges on the entry-level process of digitization, which is the conversion of paper-based information into digital format generally referred to as data.
Ergo, data provides the foundation for any and all digitalization, including the more advanced processes such as robotics or AI. Incomplete or compromised data weakens the foundation, making the digitization process fundamental. Not to be overlooked, digitization can be in and of itself a lengthy and cumbersome early step into a digital transformation (DX) journey.
Even some of the world's largest EPC groups, including JGC who specialize in greenfield development and mega-construction projects across many sectors from energy to healthcare, remain in the digitization phases of their DX journeys in the EPC side of their businesses. It is not a stage to be taken for granted. Organizational and operational change is difficult, oft painful. And even with the prowess of massive firms like JGC, it requires specialist guidance.
Kazuyuki Kojima, JGC's Advanced Work Packaging (AWP) and Digital Transformation General Manager, says:
"What we require for transforming our engineering and construction tasks is a way to automate calculations and reduce physical interaction. It's not just a money-saving goal but also a safety factor and if we can reduce the number of people in high-risk situations and reduce the human-error factor too, all the better."
Data Aside, Time Is the Most Precious Resource
Groups like JGC, for whom EPC is only a portion of their business, have seen advanced digitalization including artificial intelligence and robotics flourish in other departments. And it's clear the rewards that DX can reap in their EPC-related processes.
To that end, the EPC focus has first been on digitizing systems and processes.
Kojima says,
"We have made enormous strides using digital software solutions to manage and control our [EPC] business especially in work packaging, materials and quality management, commissioning, progress control, all the way through to handover."
What Kojima champions at JGC is no small feat. It takes time to transition both on-the-ground mindsets and ways of working from paper to digital. And, mostly, it takes time to convert heaps of existing information into digital data.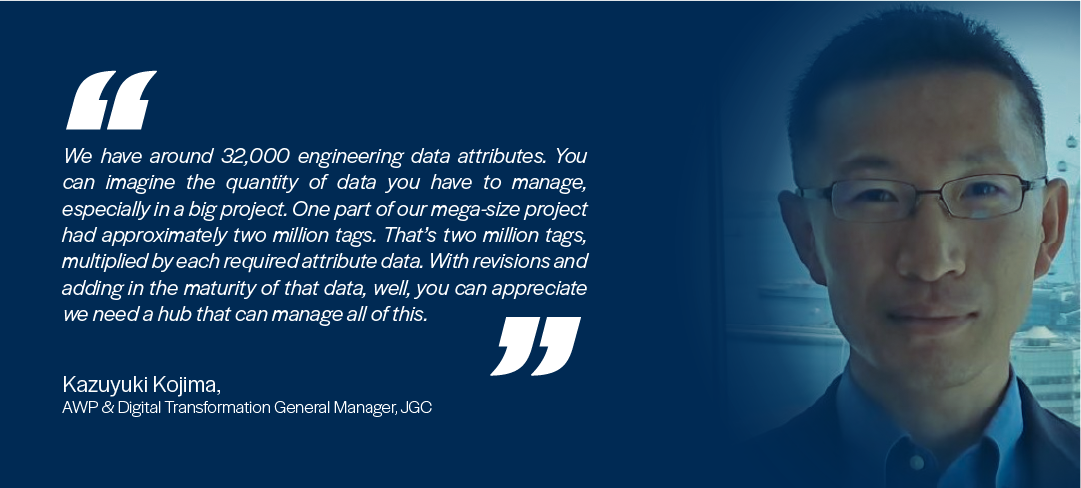 "We have around 32,000 engineering data attributes," says Kojima. "You can imagine the quantity of data you have to manage, especially in a big project. One part of our mega-size project had approximately two million tags. That's two million tags, multiplied by each required attribute data with revisions and add in the maturity of that data, well, you can appreciate that we need a hub that can manage all of this."
Kojima shares his vision for how digitized EPC information will feed the more advanced digitalization processes, easing the complexity of their construction execution:
"We are creating an automated data-transfer system on our EPC platform, but we must ensure that there is sufficient and accurate data fed into the process to achieve the ultimate output desired. By using AI and automation, complicated calculations are effortless, and humans are then free to concentrate on reviewing the output. This is the kind of platform we are working on, and we can link it to robotics or 3D printing, whatever we want.
Instead of having the results or information on physical paper, we will produce engineering output via datasets with attributed information, five-dimensional if required. But it doesn't stop there, we can tag and attribute this output and delay or schedule the distribution and size of the information. Having the ability to utilize this data in so many ways at each and every stage of design, planning, construction, and handover of a new facility is a very powerful tool.
You not only have the ability to save time and money, but we can identify potential issues in advance giving us the time to make alternative adjustments for example. Materials management suddenly becomes a seamless process as we can ensure specific equipment or materials arrive 'just in time' and again, this mitigates any delays to scheduling. Overall quality, control and efficiency is suddenly much easier to monitor and manage."
Your Data is Digital, Now What?
It's clear that data integrity is essential, both in terms of it being converted from paper to digital (or being brought into the appropriate database or system), as well as being complete and accurate.
That early phase of a DX journey cannot be discounted – it takes time to lay the appropriate, stable and sustainable foundation, which is a concept anyone in the EPC business fundamentally understands.
Once that digital foundation is secure, eliminating paper and manual systems, and software solutions have been adopted successfully, the DX train is ready to roll. It's at that stage when exciting, advanced tools add enormous value.
Kojima explains:
"When you talk about robotics such as using a welding-machine robot or perhaps using 3D printing, which is something we are using now to construct foundations, in order to use such robots, you still need to tell them how to do it via information or data input. This data package will contain several tags with dimensional and material specification information, and we feed this data to the 3D printing machine and then it can create whatever it was designed to do. But before the robot or machine can conduct the activity it's tasked to do, there has to be a digital footing or base.

The engineering data must be presented in a digital format, if this initial step is not in place, you will continue to have a person working in front of the machine typing in or uploading data manually which defeats the purpose of automation and retains the possibility of human error. Yes, you are using a 3D printer, but you are using time and staff hours executing laborious tasks with a high-error factor."
The EPC Advantage
Challenge beckons opportunity. While EPC businesses are relatively lacking in digital maturity, JGC's example demonstrates what's possible with vision, commitment to a DX strategy and the right digital partner.
Kojima highlights the importance of this high-level approach:
"Other industries, such as architectural and building contractors are much further ahead in terms of platform design, and the automation and manufacturing of individual components. They are already doing what we are trying to achieve [in our EPC business] with plant construction, but we are still a long way behind the level they have accomplished already. It is not a case of purchasing a platform from one of the many vendors on the market, the system has to be supported by the people originating and creating the data."
Given the enormity of the early DX stages, selecting the right digital partner is key to a successful and painless transition. Digital partners specializing in EPC development understand that this success hinges on data integrity.
Eliminating paper and manual processes, as well as changing mindsets, is hard. But once digitization has started in earnest, the capabilities of more advanced digitalization approaches, including but not limited to AI, lighting the torch that will carry EPC businesses into the future.
If you are interested in more information on how JGC's transformation journey is going, check out our
.