Digital Transformation for the Energy Industry - Everything You Need to Know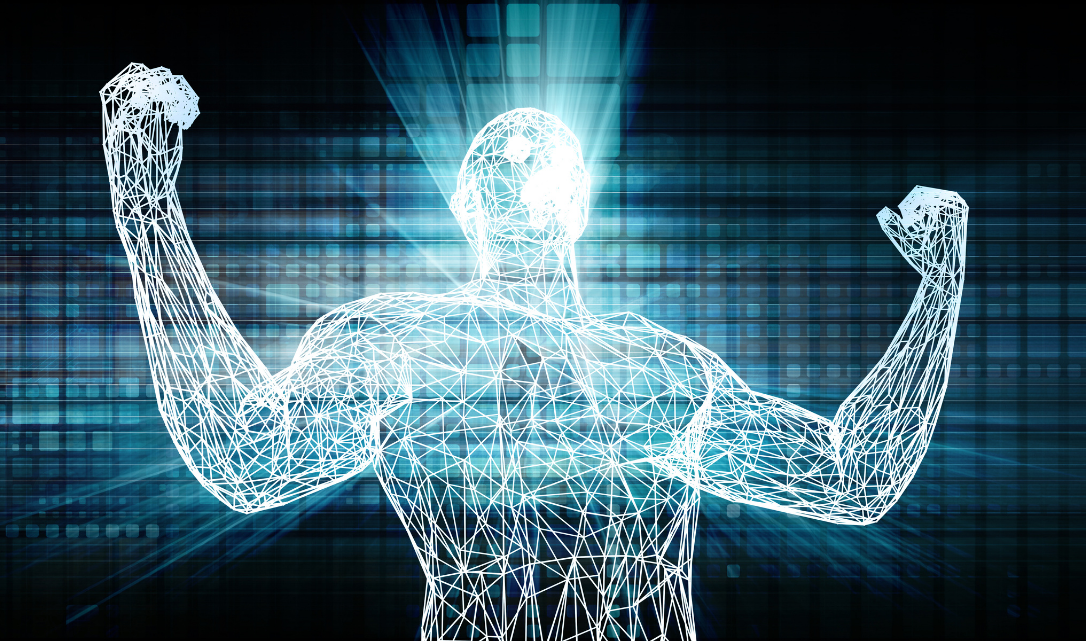 The energy transition poses the biggest challenge ever faced by Oil and Gas. As the energy sector evolves towards cleaner processes and reducing carbon emissions, there is a popular and political push like never before. This legitimate pressure to do right by our planet through conserving resources and minimizing waste is palpable.
To survive this inevitable transition, Oil and Gas companies throughout the value chain must get on board – embracing and driving the energy transition as part of their core strategies – or risk missing the train.
What Is the Energy Transition?
The energy transition is defined as:
"A pathway toward transformation of the global energy sector from fossil-based to zero-carbon by the second half of this century."
Reducing energy-related carbon emissions (decarbonisation) is at the core of this transformation. With over sixty percent of North American energy production remaining carbon-based at present, this will be no small feat.
The Digitalization Solution
Digitalization, or digital transformation (DX), is the implementation of digital technology to transform businesses and operations through swapping out paper-based (or outdated digital) systems and processes with digital ones.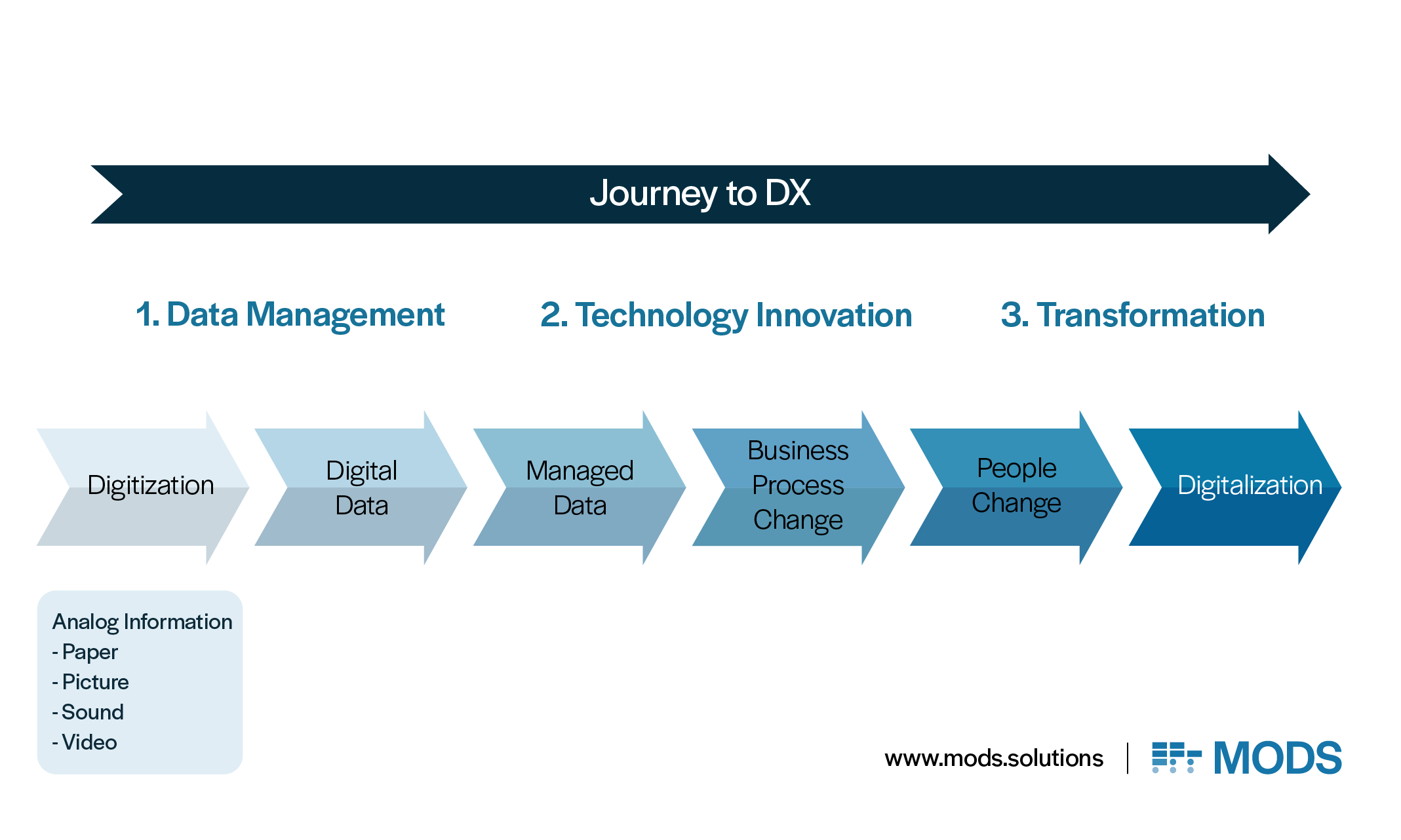 This paradigm shift starts with digitization, which is the conversion of analog information such as paper and pictures into digital data. Once digitized, the DX journey moves on to managing that data through innovative technological solutions, like specialized software.
Transitioning business and operational processes catalyzes buy-in, revolutionizing mindsets and best practices. That's where the true transformation happens, allowing digitalization to be fully realized with its host of benefits.
DX – enabled by specialist digital software solutions – introduces industrial users to before unseen efficiencies, delivering a host of cost, safety and environmental benefits.
In this guide you will find information about:
Benefits of Digitalization
Digitalization Solutions
Energy Sector Digitalization Solutions
Digitalization on the Ground
Benefits of Digitalization
Paperless technologies and digitalization deliver an array of value-added benefits to the industrial and energy sectors. Moving away from paper processes towards software solutions increases efficiencies, reduces room for human error, makes communication easier and keeps onsite workers safer.
Digitalization Adds Value
In times of budget cuts and other sector pressures, digitalization holds the potential to unlock around 1 trillion USD of value for Oil and Gas firms. Niche digital software solutions provide the key for energy-sector companies to enhance the agility, transparency, productivity and economic viability or their operations.
If you want to learn more about this topic, read Can digitalization ease the pain for Oil and Gas companies right now?
Digitalization and Safety
Oil and Gas employees face volatile employment trends and hazardous working environments, which contribute to an aging workforce. Digitalization promises not only a happier, but upskilled and safer workforce, leading to more stable operations. This people-first culture places new digital talent at the top of the recruitment queue.
If you want to learn more about this topic, read Digitalization in the Oil and Gas Industry: Can It Save Your Workforce?
Digitalization and Global Collaborations
In today's globalized world, particularly where it comes to the international partnership working inherent in Oil and Gas projects, digitalization delivers all stakeholders, all necessary information, all of the time. This streamlines communications and increases effectiveness of carrying out projects across international boundaries.
If you want to learn more about this topic, read Construction without Borders: How Paperless Technologies Enable Global Collaborations
Digitalization and Decarbonization
Going paperless not only saves trees, it optimizes operations with the potential to drastically reduce carbon emissions. For Oil and Gas to survive the energy transition, embracing decarbonization through digitalization will prove essential. Embracing the inevitable digital transformation, however, isn't enough. There is opportunity to lead it.
If you want to learn more about this topic, read Digitalization and Decarbonization: Go Paperless to Ease the Energy Transition
Digital Builds Social Capital
Oil & Gas has the potential to contribute to every one of the 17 United Nations Sustainable Development Goals in pursuit of Agenda 2030. Digital transformation is a tool enabling positive economic, environmental, and human-welfare change. This is the sort of change that earns social capital under which successful businesses thrive.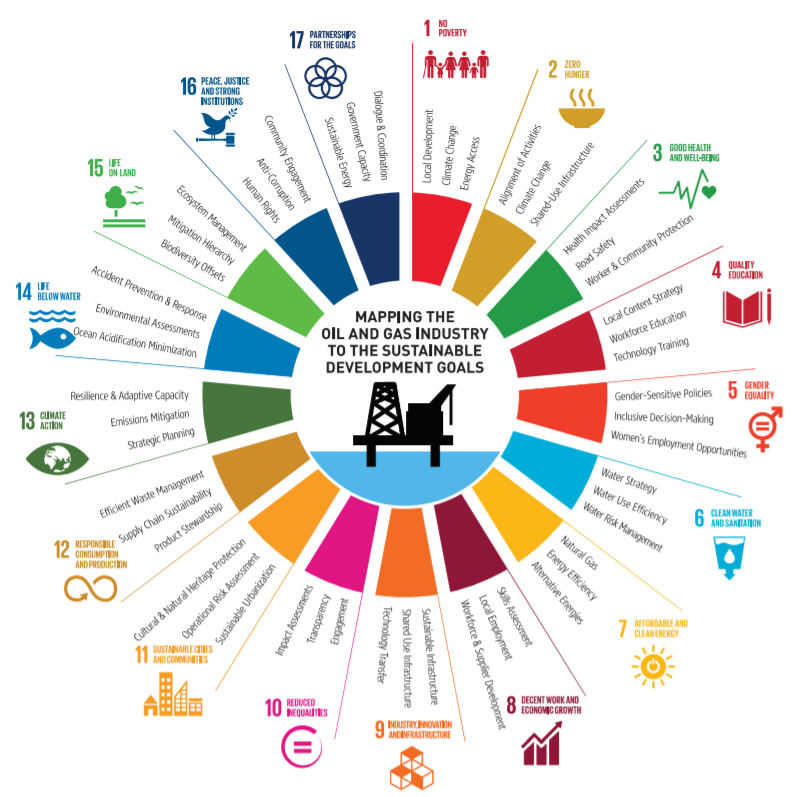 A sustainable solution for Oil & Gas Digitalization, digitalization increases competitiveness, minimizes resource waste and emissions, and keeps people safe so that energy can be delivered where it's most needed.
If you want to learn more about this topic, read Adapt or Die: How Digitalization Helps Oil & Gas Contribute to the SDGs
Digitalization and Operational Agility
Particularly in light of the pandemic downturn, digitization and specialized software solutions offer Oil and Gas companies an opportunity to reclaim their agility and operational efficiencies by eliminating manual processes.
Eliminate the use of siloed processes for different activity phases – the right digital solutions offer a holistic approach that spans the entire life cycle of a project or operation.
If you want to learn more about this topic, read What does Operational Agility in Oil and Gas mean in the current Pandemic?
Digitalization Solutions
Digitalization solutions – including both hardware and software – are increasingly available, sophisticated and agile. These tools, when fit for purpose and designed with client needs in mind, enable digital transformation towards a paperless environment.
Digitalization and Mobile Technology
Digital software solutions are broad in scope and come with wide-ranging features that make industrial jobs easier and safer. Mobile technology, specifically, delivers a host of benefits to onsite users, including: remote asset inspection, hazard notifications, task and monitoring alerts, training delivery, remote assistance, lone worker support and much more.
If you want to learn more about this topic, read Go Mobile – There's No Going Back
Advanced Digitalization Solutions: Digital Twins
Digital twins are effectively computer models of the asset(s) or facilities that they represent, enabling remote visualization, monitoring and operation. Putting people first, digital twins foster a collaborative atmosphere that inform decision-making processes in a way that traditional systems cannot.
This sophisticated solution is only in its infancy in the energy sector, but its potential is profound and poised to revolutionize business models, as well as modes and methods of energy exploration, production and delivery.
If you want to learn more about this topic, read The Evolution of the Digital Twin
Advanced Digitalization Solutions: AI and Robotics
Robotics and artificial intelligence (AI) hold enormous potential for modernizing industrial operations. But their performance will only be as good as the data on which they feed. Ensuring data integrity, starting now in the early phases of digital transformation will prove essential to the ultimate adoption of such advanced technologies.
Advanced digitalization solutions make even the most complex calculations effortless, freeing engineers and managers up to focus on activity outputs.
If you want to learn more about this topic, read Ai And Robotics in the Energy EPC Sector Requires a Powerful Prerequisite
Energy Sector Digitalization Solutions
Owing to the massive scope of digitalization solutions, it is essential that digital tools are fit for purpose. The industrial, energy and overall natural-resources sectors can be high-hazard and technically-complex environments and require specific solutions in order to fully realize the benefits of going paperless.
Digitalization and Joint Integrity Management
Digitalization of joint and flange management reduces room for error and mismanagement. Joint integrity management software solutions deliver real-time tracking, better reporting, traceable activities, and reliable incident data. It's time to ditch the old-school paper processes, moving all systems to the Cloud.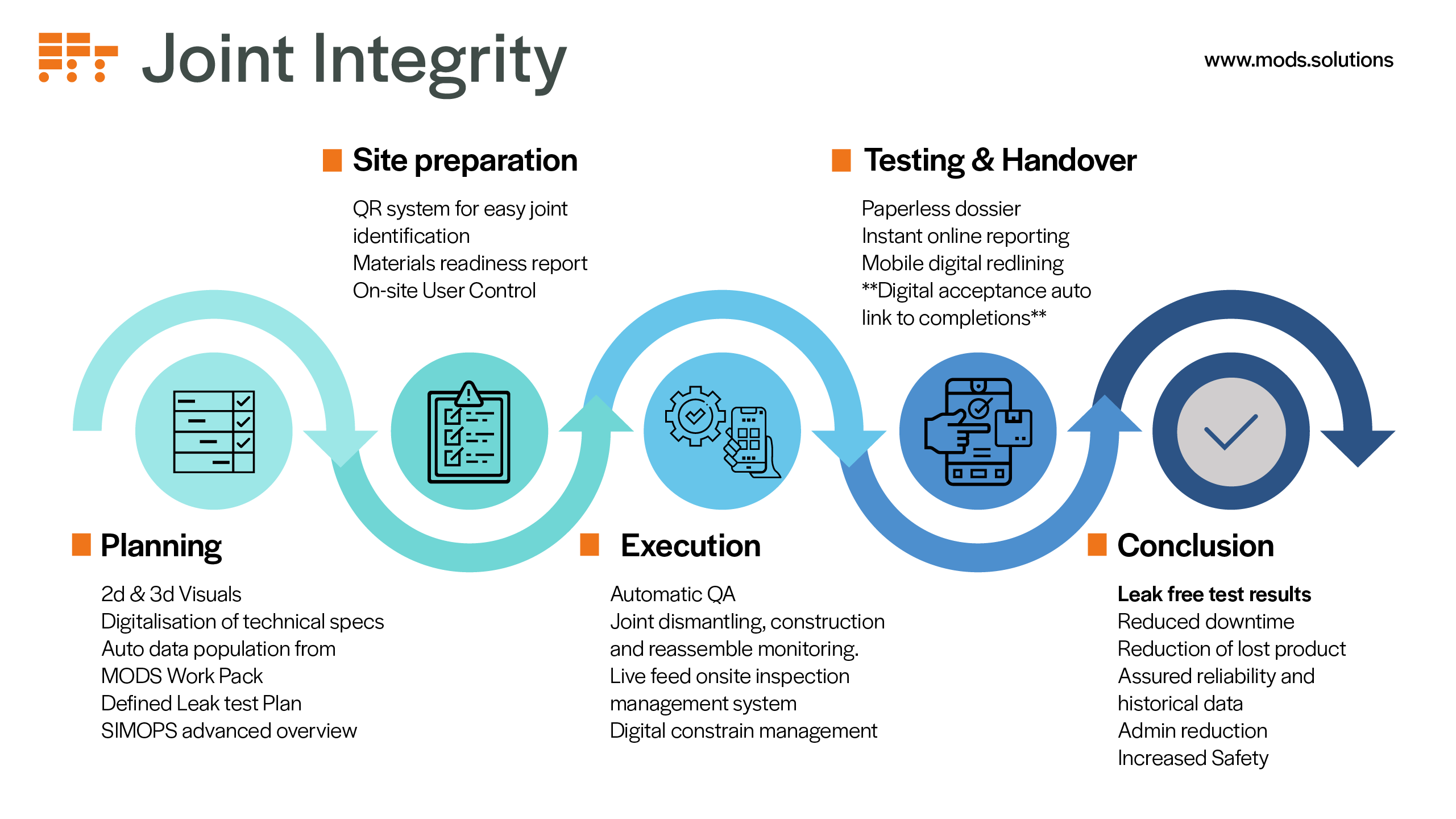 This will streamline global communications, particularly for site work in some of the world's harshest conditions. Digitalization provides custom and specific solutions that, for example, address major problems such as flange or bolted-joint connection leaks.
If you want to learn more about this topic, read Your first steps with Digital Transformation (DX) in Joint Integrity Management
Digitalization and Materials Management
A long-standing issue for many onshore and offshore projects, the lack of proper materials management compromises productivity and quality control. Digital materials management tackles these problems through easy-to-use and accessible software solutions.
The most effective digital solutions address each of the five pillars of digital materials management strategy: process innovation, communications modernization, data as an asset, digital evolution, and future planning.
If you want to learn more about this topic, read Five strategies for successful Digital Transformation of Materials Management
Digitalization and Asset Maintenance and Modifications
Digitalization, process automation, collaboration, integration and mobility avoid information silos and streamline scheduling and work execution of offshore repairs. Specialist software solutions bust through siloed systems and information, uniting any and all relevant maintenance and modification data into one universal package.
If you want to learn more about this topic, read 5 Ways to Improve the Efficiency of Maintenance and Modifications Through Digitization
Digitalization On the Ground
Talking about digitalization in theory is one thing. But it's the practicalities of onsite applications that will convince the most reticent to abandon paper and commit to the future with digital transformation. At its heart, digitalization puts people first.
Digitalization of Offshore Oil and Gas
The extraordinary and extreme environments of offshore projects often require herculean efforts in order to deliver on cost, efficiency and safety. Digitalizing offshore projects mitigates many a design and installation challenge through specialized software solutions that improve communication, transparency and quality.
If you want to learn more about this topic, read Enabling Offshore Oil and Gas projects with Digital transformation
Chevron Australia's Staged Digitalization
Digitalized turnarounds create a level playing field, giving everyone on the team visibility through one shared platform.
Chevron Australia achieved a 100% paper-to-digital transition within three years at the Gorgon plant, which is a liquefied natural gas (LNG) plant off the north coast of Western Australia and part of the largest single-resource development in the country's history.
Digitalization provided "one source of truth" - an astonishing feat for a project of this magnitude. And it made all the difference in planning and executing effective turnarounds.
If you want to learn more about this topic, read Digitalization: The One Source of Truth
Digitalization in Industrial Fabrication
Industrial fabrication provokes images of masked men in coveralls wielding flame-torches. Not exactly a modern vision. But one strategic partner in global energy – Louisiana's GIS – have taken their operation into the future through embracing digital technology at their fabrication yards.
Digital solutions in industrial fabrication foster safety, reduce error and time lost, upskill workers, and promote a sustainable mindset through going paperless.
If you want to learn more about this topic, read How Digital Technology Can Breathe New Life Into Industrial Fabrication
Digitalization makes for agile businesses, full stop. Specialized software and hardware on which energy sector digitalization hinges, are simple solutions to modernize existing operations. These paperless solutions keep people safe, save money and time, eliminate paper and reduce carbon emissions.
There's no excuse anymore for the slow uptake of such technologies – payback is measurable and it's the right thing to do.
Interested in implementing digitalization in your organization? Have a
to see which solution fits your needs the best.