Meet Matthew Bell - Inside MODS Series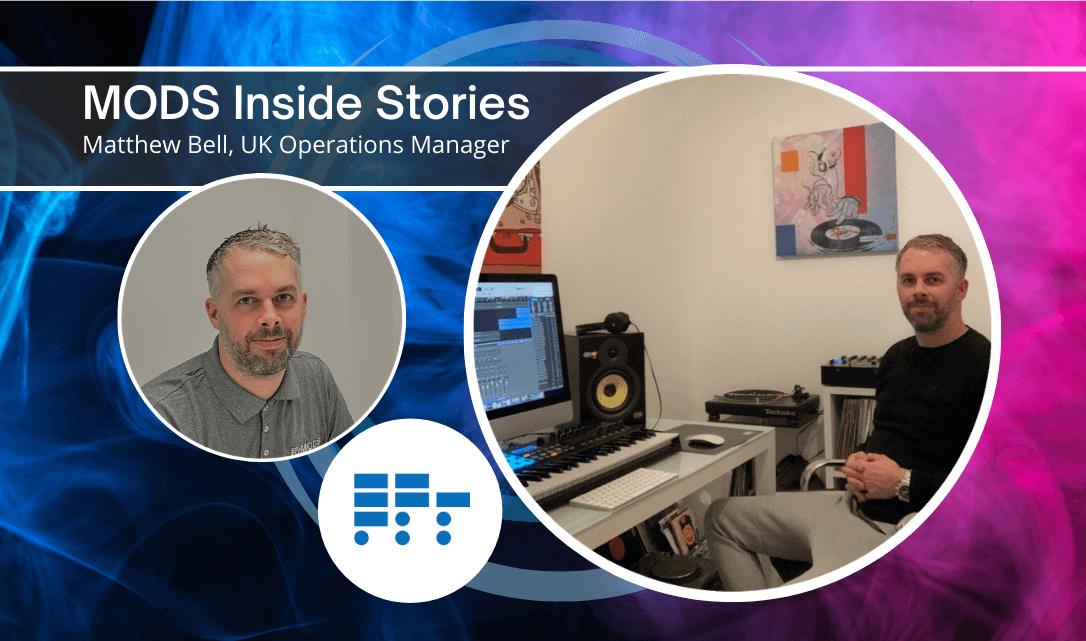 If you were looking for a man of many talents, then look no further than Matthew Bell. As MODS' UK Operations Manager he must use his skills to multi-task and keep the MODS 'machine' running smoothly as possible. Matthew is based in the Aberdeen Head office and has worked with MODS a number of times over his long career in the Energy industry.
It will be no surprise to hear that with a surname such as 'Bell', Matthew is one of the four brothers working at MODS across the globe. Eldest brother Jon is MODS' CEO, Tim is the Technical Interface Director and youngest brother Nick, is a Software Developer in the States.

As very much a family man himself, Matthew is father to a teenage daughter and a younger son who are, as yet, showing no aspirations of joining the family business, their interests unsurprisingly more fashion and football focused at the moment.

There is, however, one more four-legged family member who is very keen to join the MODS team.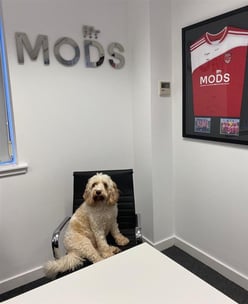 In fact, 'Megan' the family dog, a Spaniel cross breed, has already become an extremely popular staff member at MODS HQ. This pampered pooch feels very much at home on her daily trips to the office, busying herself with visiting her workmates, playing with her toys and, of course, looking for snacks. The only downside being that Megan has, as yet not read Company policy on Office behavior, and notoriously disrupts meetings, having snuck in, fallen asleep and surprises everyone with her loud snoring.

Matthew Bell has spent his whole career focused on the Oil and Gas industry. It started early with aspirations of becoming a Piping Designer, not your typical career path for a sixteen-year-old but Matthew is from a family that's been linked with the industry for decades.

After a short stint at College, Matthew was quick to grab opportunities to work offshore where his pipedream soon came reality.
Matthew recalls:
"I started off as a draughtsman and then learned surveying skills, and as the years went by, I was promoted to Senior designer, Principal designer, Lead designer and then became an Engineer. Literally I went through every step, working my way up, learning as much as I could along the way".
Matthew's hard work certainly paid off for him personally, but it's also been incredibly valuable to MODS, Matthew explains:
"It definitely does help having lived, worked and experienced so many of the jobs on an offshore platform. When I am working with clients, I know exactly what they're talking about and can really relate to them. And because I've been in Scotland for the majority of my career, I do know a lot of the organizations based here and have links with many of the key staff. When people know you, they have confidence in you and your business".
As Operations Manager, Matthew is involved with Business development opportunities and the continuous goal of improving software. Matthew adds:
"It's not only when we integrate the system into the Client's organization, we also aim to understand what problems their having and adjust the software to help. It's always a collaboration, as it's of mutual benefit for us all to have the best system possible. I do prefer the development side of my job. Looking to the future, we already have some really exciting ideas in the planning stage. When you've worked in the industry and you see the problems that crop up time and time again, you start thinking, how can I solve that and how can I make it better, I really do enjoy that challenge".
But this is not an insular thought of Matthew's as he's quick to inform:
"I think to solve any problem, you have to work together and, in this industry, although it's huge, there are just a small number of people who are in it. You need the experience of the other guys who work in the larger organizations such as Petrofac or JGC and not just here in the UK but across the globe. There are lots of different disciplines in this industry, I was predominantly Piping but we look at everything from electrical, mechanical, the whole bigger picture. By discussing common issues with industry experts, you soon come up with workable solutions – everyone is incredibly open to assist each other".
Working in Operations comes with the long hours and constant on-call requests but it's not all work and no play for Matthew. As a fully paid-up member of the Bell family, Matthew is absolutely going to have a hobby that includes wheels. His father and brothers all have, to some extent, a passion for motor sport and bikes. Matthew is no different and admits to 'loving anything with an engine', however his engine-tuning skills are surpassed by is most favorite past-time and that is mixing music.
Matthew's passion for DJing started in his teens beat mixing on vinyl and CD. Although never performing as professional, he did play a few clubs and took part in competitions in his younger years. Now his passion is relegated to hobby-status where Matthew spends time in his home studio creating his own mixes and remixes. He admits progress in technology is making editing much easier:
"It's amazing what you can do now compared to when I first started. The editing software available plus the ability to access music samples from anywhere in the world instantly means that it's way more enjoyable to create your own tracks and remixes. Years ago, I'd have a huge collection of vinyl that was a specific genre of music I liked but now, with the digital age, I can stream literally anything I want to add instantly. Back then, beat-mixing was a real physical skill, now it's effortless and I can be so much more creative. And thanks to the Pandemic and the endless lockdowns we've experienced here in the UK, I've spent way more time in my studio, than I normally would do, it's been great".
Family, music, motorbikes, MODS and of course, Megan the dog all have their special part to play in the life of Matthew Bell. His industry knowledge and expertise is highly valuable and regarded by his peers, but would they ever know that he's a man of so many other talents.
You want to join the team? Check out our
for open positions.