Advanced Work Packaging (AWP): Future Trends in Energy Sector Facilities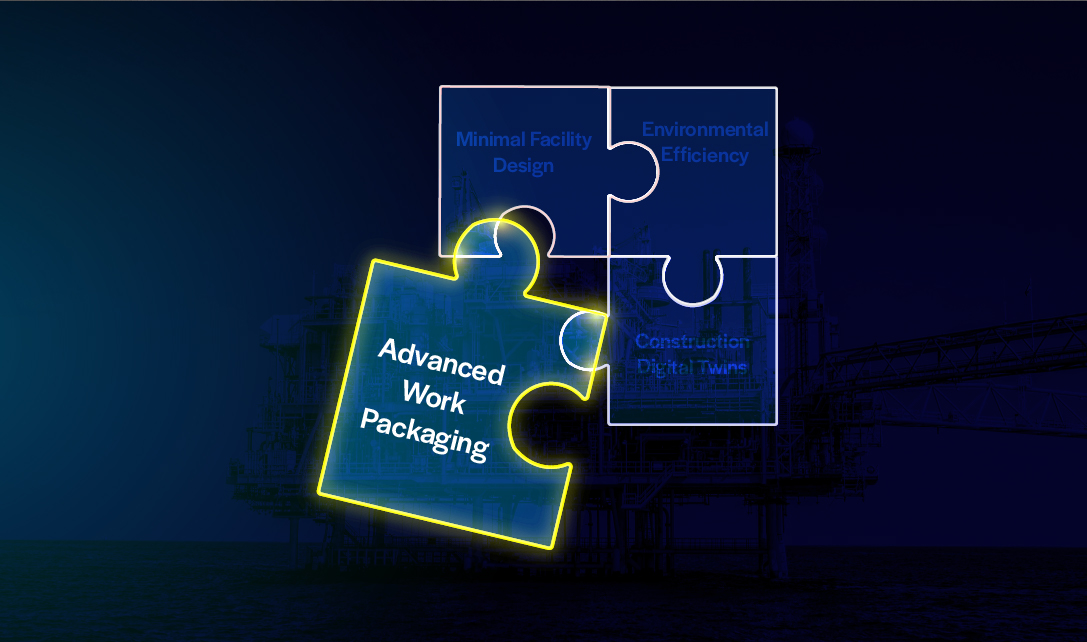 This blog is the second in a four-part series looking at the following future trends in energy sector facilities:
Future Trend 2: Advanced Work Packaging (AWP)
Future Trend 3: Minimal facility design
Future Trend 4: Construction digital twins
Following on from Part I where we discussed the continued importance of environmental efficiency in construction execution, workflow efficiency is also of paramount importance to keeping projects both on time and under budget.
Advanced Work Packaging (AWP) is revolutionizing construction project management in a way that prioritizes budgetary constraints and streamlined workflows. As a happy consequence, AWP indirectly contributes to increased environmental efficiency through reducing time and other resource waste.
This blog focuses on how AWP controls construction execution to ensure activities occur in the correct sequence, saving time, money and reputation. It is divided into three parts:
Sequencing Pitfalls in Mega-Projects
In greenfield and other mega-projects, planning, logistics and workflows are high-stakes and complex. The interconnectivity of materials, equipment, tasks and personnel requires intricate sequencing, which is extremely difficult to achieve in a way that keeps projects on time and under budget.
When traditional work pack methodology is in place, greenfield projects suffer 25percent cost overruns and 33 percent schedule overruns. Accurate, reliable sequencing is a constant challenge for industrial builds. Common sequencing pitfalls include inaccurate forecasting, falling behind schedule, misaligned expectations, materials delays, lost information and other forms of miscommunication revolving around the misunderstanding of real-time project status.
Predictability is key. What digital AWP solutions do is ensure that all tasks are anticipated, planned for and executed in the correct sequence. The AWP advantage is clear: reducing costs by up to 10 percent TIC (total installed cost), reducing rework down to zero, improving safety with zero incidents in optimal cases, improving predictability and shortening project schedules.
What is AWP in Construction?
According to the Construction Industry Institute (CII), AWP is a global best-practice that enhances the performance of capital facilities projects. Replacing traditional work package methodology that relies on paper and manual processes, the AWP solution ensures clients build facilities at lower costs and higher quality through eliminating lost time, double work and mistakes, as well as facilitating communication.
Leading owners in the oil & gas and other industrial sectors are starting to require that AWP be implemented for their CAPEX projects. There's a cost basis for this trend because AWP maximizes cost savings.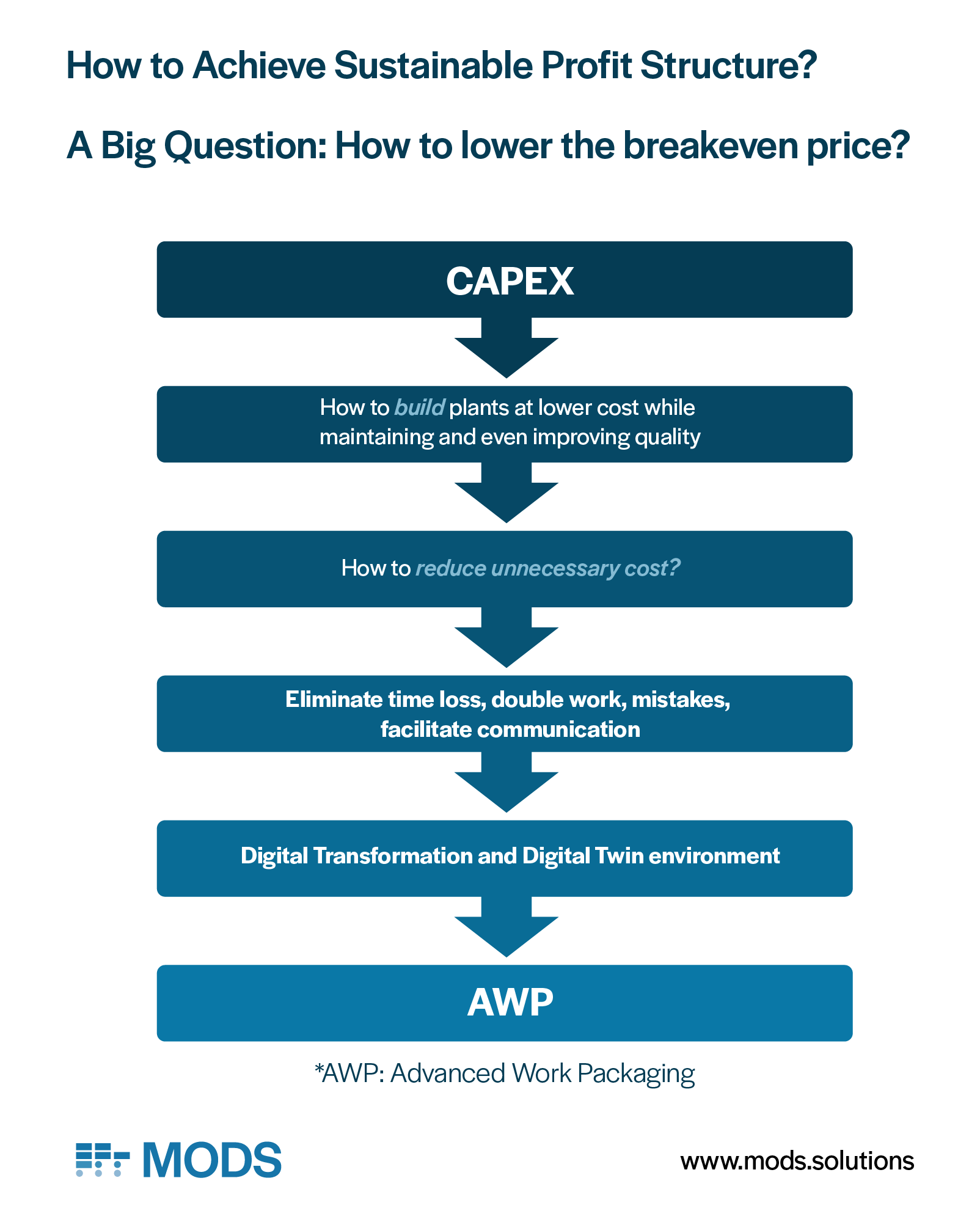 The user-friendly AWP solution creates digital work packages that not only avoid sequencing pitfalls, but optimize workflow efficiencies throughout all phases of project execution.
Digital AWP puts all project information at your fingertips, including current engineering drawings, construction tags, progress reporting, and all related deliverables and safety documentation. Plus, real-time 3D asset and/or facility views bring together all of this information, which is remotely accessible from a mobile device, whether onsite or in office.
Cloud-based AWP systems in construction create fit-for-purpose execution work packs. These digital work packs link the engineering, procurement and construction teams who need to coordinate sequential activities throughout the project. Cross-disciplinary communication and coordination is further aided by an interactive real-time 3D model containing all project details.
Throughout construction execution, AWP systems provide users with up-to-date status, and the latest drawings and scope accessible via a handheld device. Further, users can update progress and tag status, record working hours, as well as create punch items for completions and commissioning.
AWP In the Digital Transformation Journey
Advanced Work Packaging systems are only part of a larger digital transformation journey for those involved in CAPEX infrastructure development. It is neither the first step, nor the most advanced in the hierarchy of technological evolution. However, it is arguably one of the most impactful in terms of project outcomes.
Firstly, a DX strategy needs to be conceptualized and committed to, starting with digitization of EPC operations. This means transitioning from paper-based systems and manual processes to digital solutions. With the right digital partner, all of that now-digital information would be in a centralized database, allowing for tag management and data sharing. Only then can the power of AWP solutions take hold, managing activities and work packages with a real-time dashboard.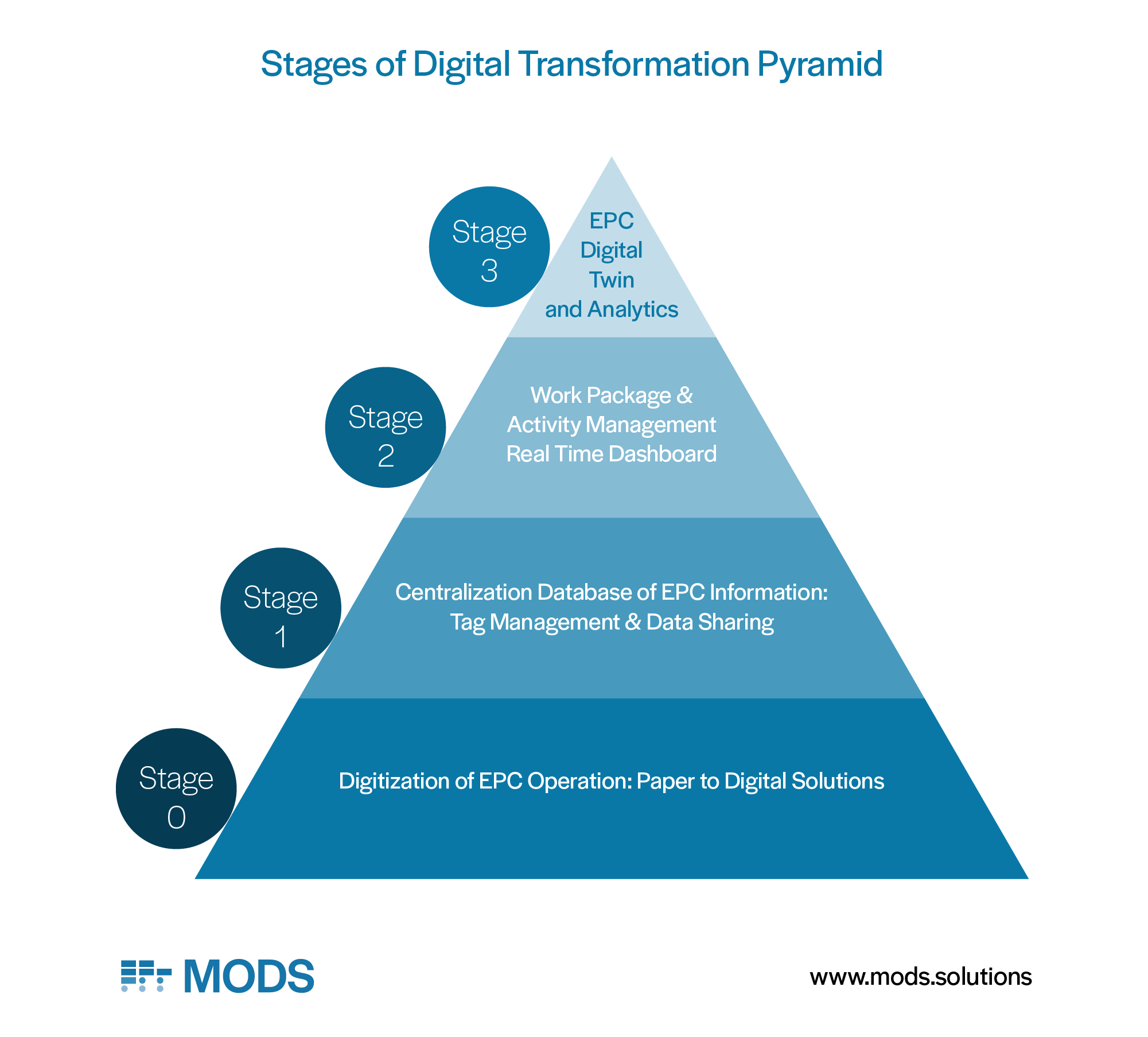 The construction of energy facilities of the future is becoming increasingly reliant on AWP solutions, which optimize workflow and, hence, environmental efficiencies. This makes a difference to the project's bottom line: saving time and money, keeping projects on schedule and under budget.
With digital AWP in place, greenfield project performance is improved by up to 25percent cost savings and 33 percent less time wasted. This cost and time savings has broader business implications – strategic thinkers are freed up to work on continuous improvement strategies and innovation. Project managers and onsite workers upskill with digital solutions and, instead of firefighting scheduling snafus, are able to make premeditated, informed decisions, improving workplace culture, safety and morale.
Next Up:
Trends in energy facilities of the future are mutually reinforcing. We've discussed from Parts I and II of this series how environmental efficiency and Advanced Work Packaging are two overarching strategic approaches in EPC projects that cannot be ignored. However, without design, facilities cannot be constructed. New-wave design of energy facilities is the focus for Part III.