Construct Without Borders: How Paperless Technologies Enable Global Collaborations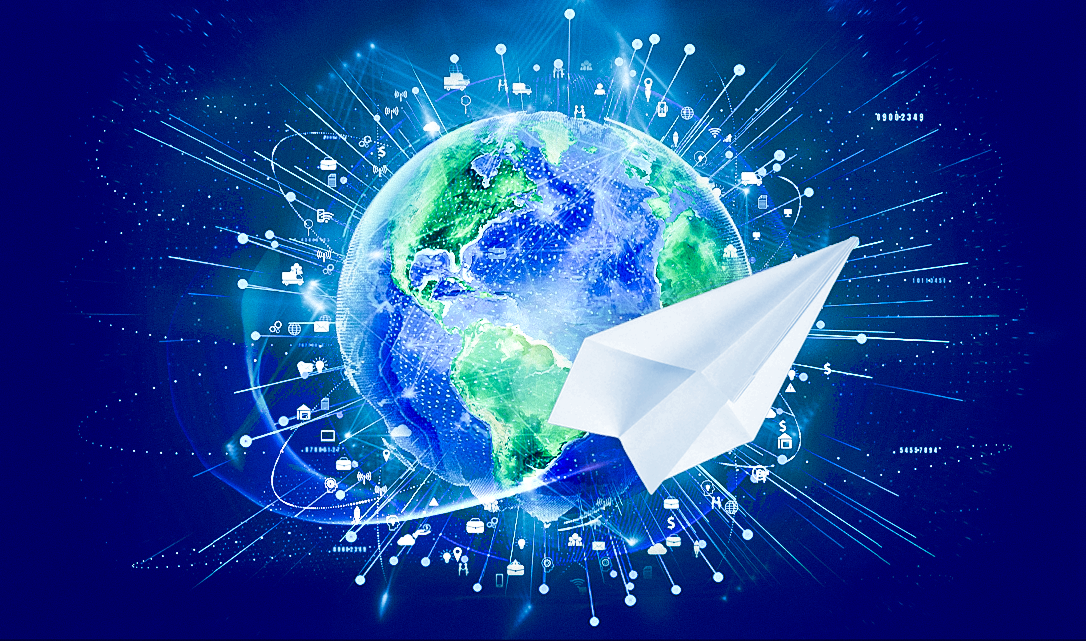 White-knuckled, people cling to paper. Entrenched in what is ultimately a wasteful, archaic and inefficient paradigm, this remains the case particularly with regards to the management of complex construction logistics.
It's a paradox because, in our globalized world, contractors may well be in different countries from their clients with whom they must communicate in technical detail. Yet paper remains the de rigueur operating standard, particularly with In Oil and Gas. That can be really hard.
Superior solutions exist. These throw out the window potential for confusion in collaborative global meetings, where contractors may struggle to effectively communicate technical and nuanced scenarios to their remote clients.
Make a paper airplane with your final scraps and get on board. Digital solutions will take Oil and Gas global, facilitating collaborative work without borders.
Making Greenfield Construction Green
Digital technology is paperless technology.
The reality is that energy sector construction companies probably already use some sort of hybrid system: a bit of tech here, a bit of paper there. Construction management systems with varying degrees of sophistication are now commonplace. But many of these systems depend on paper-based work packs and manual data entry, which doesn't come close to harnessing the potential of digital.
This has certainly been the case for JGC, who as one of the world's premier engineering contractors have carried out more than 20,000 projects in 80 countries. Over the past five years, paperless processes have secured a foothold with JGC. This vision was put to the test in 2019 with a 6 billion USD liquefied natural gas (LNG) greenfield project located in a remote Canadian site using scoping contractors at a module yard in China.
JCG introduced a digital solution – MODS Origin – that evolved out of a JGC-software collaboration dating back to 2016. The initial appeal of MODS Origin (a greenfield-specific solution) was that it worked with their trusty construction management system that JGC had spent years refining in-house. JGC's proprietary system was designed to suit the specificities of their working practices but relied on manual data entry.
MODS Origin solved that problem.
JGC's Digital Transformation General Manager, Kazuyuki Kojima says,
"What we did with MODS Origin, we tried to eliminate paper and the manual encoding [required by our in-house system]…MODS provides the main user interface. Our in-house system provides the upstream data. Eliminating paper and manual encoding is an important first step towards digital transformation of our EPC business, which is our ultimate goal."
Replacing Paper With Custom Digital Solutions
It's this type of bespoke software solution, one that works with and not against existing ways of working, that carves out the path of least resistance towards paperless construction management.
Digital software solutions like MODS Origin, at their most effective, are designed with a fundamental understanding of project work and not from a theoretical standpoint. It's this understanding that renders paper-based processes a thing of the past.
Digital solutions that force conformity to a digital package ignore client's needs and their on-the-ground realities. Operationally, this can be more disruptive than beneficial. Software solutions prove their worth as infinitely more valuable than their paper counterparts when they are designed to acknowledge and respect current ways of working.
Removing the need for paper associated with things like work packs, for example, eviscerate tedious data entry that's susceptible to mistakes and oversight. With traditional construction management practices, work schedules and progress can be difficult to make sense of, to query, or to share with remote stakeholders.
JGC implemented digital Advanced Work Packs (AWPs) from MODS Origin, which visualizes facilities and assets, replacing complicated engineering schematics with user-friendly visuals. These digital models speak louder than words and unify geographically fragmented teams by making communication easier.
Paperless systems show, they don't tell.
Relationships Matter: A Picture Is Worth a Thousand Words
JGC's 2019 LNG Canada project aptly demonstrates global working trends. Based in Japan, with a field site in remote Canada and those responsible for scoping work in the China module yard, one remotely-accessible source of all project details made for streamlined communications.
Digital visuals like 3D models lubricate remote working relationships by conveying the relationships of assets in space and time and relative to other assets in a way that 2D paper plans cannot.
Communicating the same thing verbally, relying on paper drawings, is far less efficient and less effective. This delivers onsite understanding into the office, where high-level managers can easily liaise with clients, informing as to the on-the-ground realities.
It can be difficult for a sub-contractor to explain to a contractor, for example, why they are unable to proceed with installation of a particular piping system at a given time. Onsite, context would be clear. Perhaps the foundation or supports aren't yet in place. Perhaps an adjoining system that must go in first isn't yet complete.
In the JGC example, communicating between Canada, Japan and China could too-easily devolve into a game of Chinese whispers in the absence of a specialized software solution like MODS Origin.
Digital visualizations make it easy to convey such information offsite in an office environment to those not intimately familiar with on-the-ground realities. There's a certain sophistication, too, of a contractor who walks into a board room empty handed save for a sleek laptop or tablet. Explaining activity sequencing and problems turns from a chore to cinch.
See Into the Future With Digital Construction Management
Paperless construction management of the 2019 LNG Canada project proved revolutionary to JGC. Since, they have continued to integrate more digital features and solutions in their quest towards paperless projects in large part because it facilitates communications with global teams.
An embrace of digital tools will help globally dispersed management teams communicate with ease across borders. One of the revelations of digital software solutions in the construction of Oil and Gas, and of other industrial facilities, is that global management can accurately track progress and communicate with all stakeholders regardless as to their locations.
This heightened ability for accurate communications, quite simply, allows contractors to better collaborate with and to serve their clients. A digital construction management solution is more like a crystal ball and is far superior to paper.
MODS CEO, Jon Bell, underscores the value of controlling costs and optimizing productivity with paperless digital solutions:
"Thousands of documents, drawings, and plans in paper format make information management and communication vulnerable to error and confusion. The simplicity and efficiency of paperless systems remove these barriers to effective remote communication. This creates positive project outcomes that will keep the energy industry relevant in the context of Industry 4.0."
If you're interested in managing your global teams effortlessly,
Want to know more about digital transformation? Go check out our Digital transformation - everything you need to know.