JGC and MODS: A Case Study in Partnership and the Power of Digital Transformation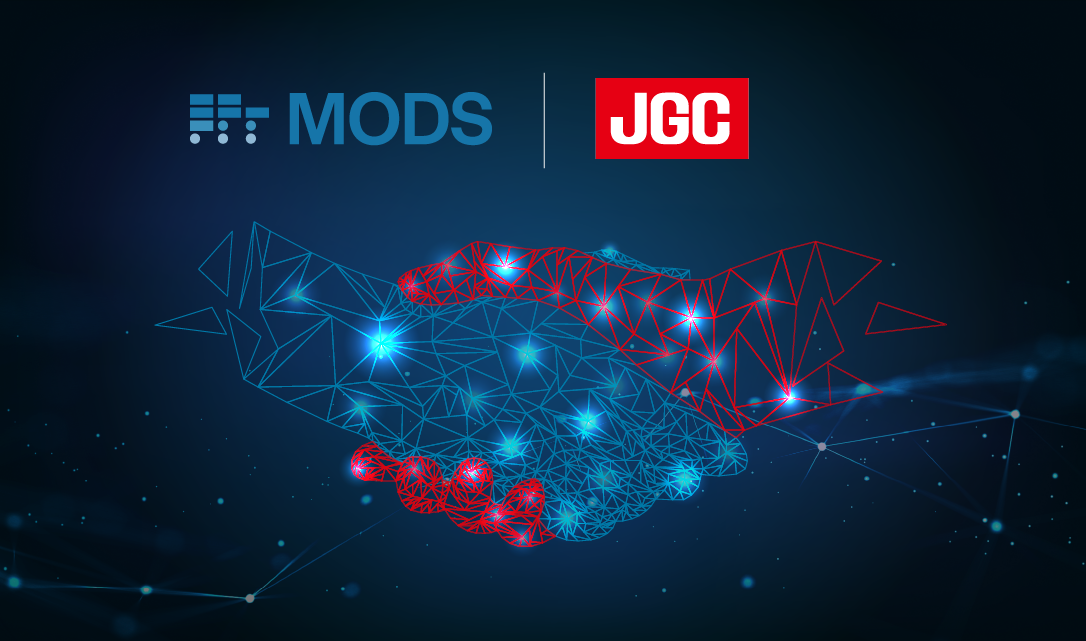 A significant global contributor to economic growth and industrial development, JGC Group is an engineering, procurement and construction (EPC) organization committed to meeting challenges for a better world.
JGC partnered with software-as-a-service provider MODS to reduce capital expenditure through digital transformation of their construction execution business. This partnership began 2016 with the onboarding of MODS's industrial software solutions.
A turning point in this relationship came with JGC's LNGC Canada project, one of the biggest liquefied natural gas (LNG) projects in the world at the time, which started in 2019. MODS-JGC soon progressed into a full-time partnership with JGC becoming major shareholders of MODS in October 2020.
The fully customizable and agile MODS Origin – created specifically for complex large-scale new builds – transitioned JGC from paper-based to paperless construction execution systems, skyrocketing efficiencies and slashing capital expenditure.
Who Is JGC?
JCG dates back to the 1920s and with budgets of over USD 1 billion in the oil and gas sector alone, they have since headlined the construction of more than 20,000 projects in over eighty countries.
Originally focused on energy and chemical plants, JGC's EPC business now revolves around complex greenfield and mega-construction projects over a range of sectors from energy to healthcare and beyond.
Fiscal Year 2018 revenues clock in at USD 6.3 billion. At 7,300 employees strong, JGC is one of the world's most prolific EPC firms, constructing one-third of global LNG projects.
The Problem: Untenable Project Costs
Capital expenditure of JGC's construction execution accounts for half of their total project costs. JGC's existing construction management system relied on paper-based processes and manual data entry for work packs, which resulted in projects consistently running over time and over budget.
The five issues that JGC sought to address through their digital transformation journey were:
To reduce cost overruns and project delays through a paper-to-digital transformation.
To increase productivity and minimize lost time through digital work packaging solutions and optimal allocation of resources.
To integrate with and enhance the efficacy of their existing in-house construction management system through removing manual processes.
To ensure transparency through making all project phases of their construction management (from planning and commissioning through to handover) visible, through cloud-based quality-assured data and information.
To support an agile future and to continue to develop MODS Origin in partnership with MODS, enabling remote oversight of all phases of their construction execution projects, ultimately with advanced tools including Artificial Intelligence (AI).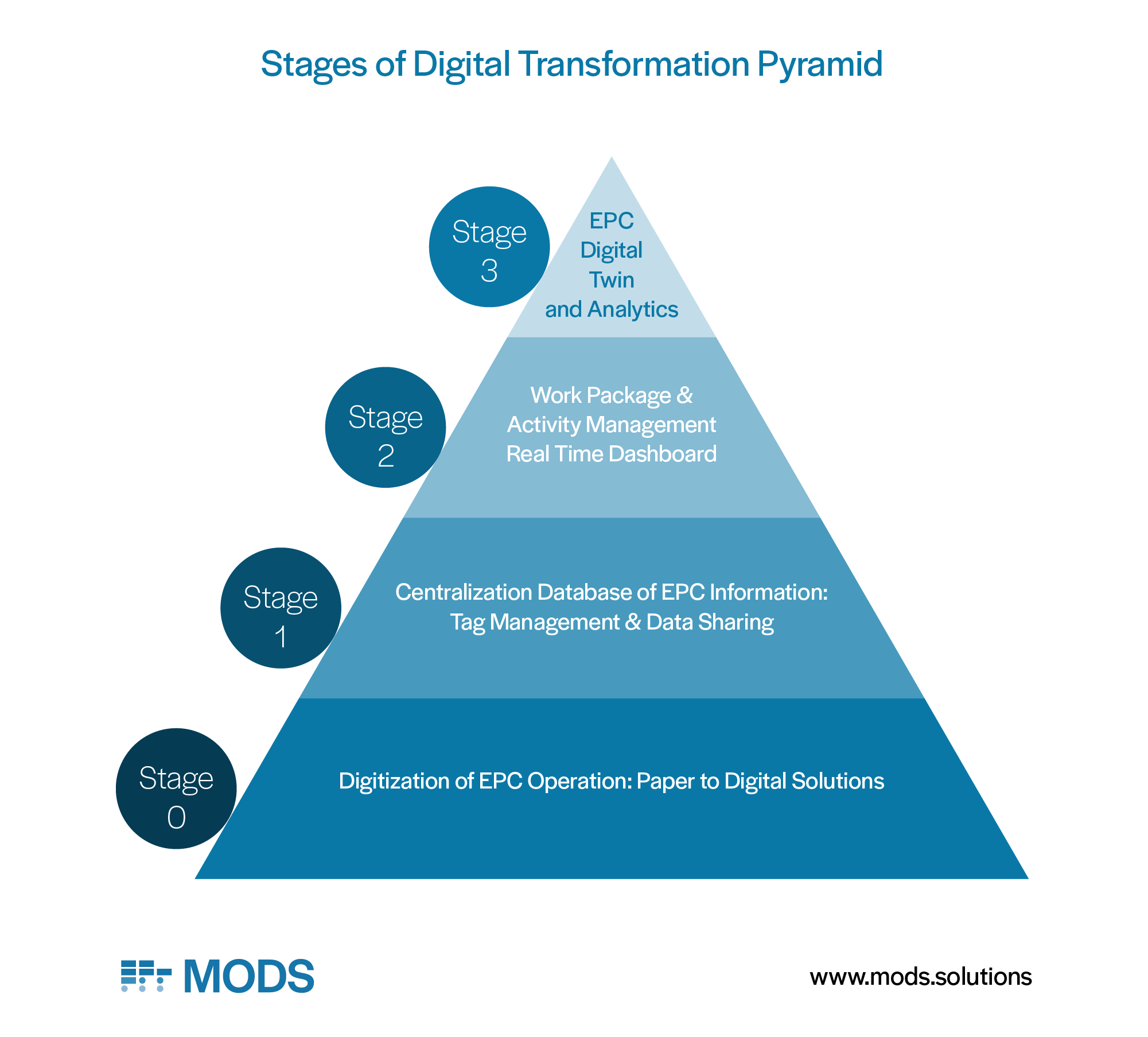 With a vision to go paperless, JGC undertook a piecemeal digital transformation approach that revolved in large part around digital advanced work packaging (AWP).
The Solution: Digital Transformation With MODS Origin
Embarking on a digital transformation journey reinforced JGC's ethos to create a more prosperous future and to harmonize energy and the environment.
Since joining forces with MODS in 2016, MODS Origin has enabled paperless construction execution of around ten significant JGC projects. These projects included:
Full development of a Central Gas Plant facility in Bahrain in 2017;
From the ground up development of a crude oil gathering and processing facility with a capacity of 40,000bbl per day for Sonatrach in Algeria in 2018;
The construction of an LNG export terminal in Canada in 2020; and,
A USD 3.5 billion refinery upgrade project for South Refineries Company in Basra, Iraq.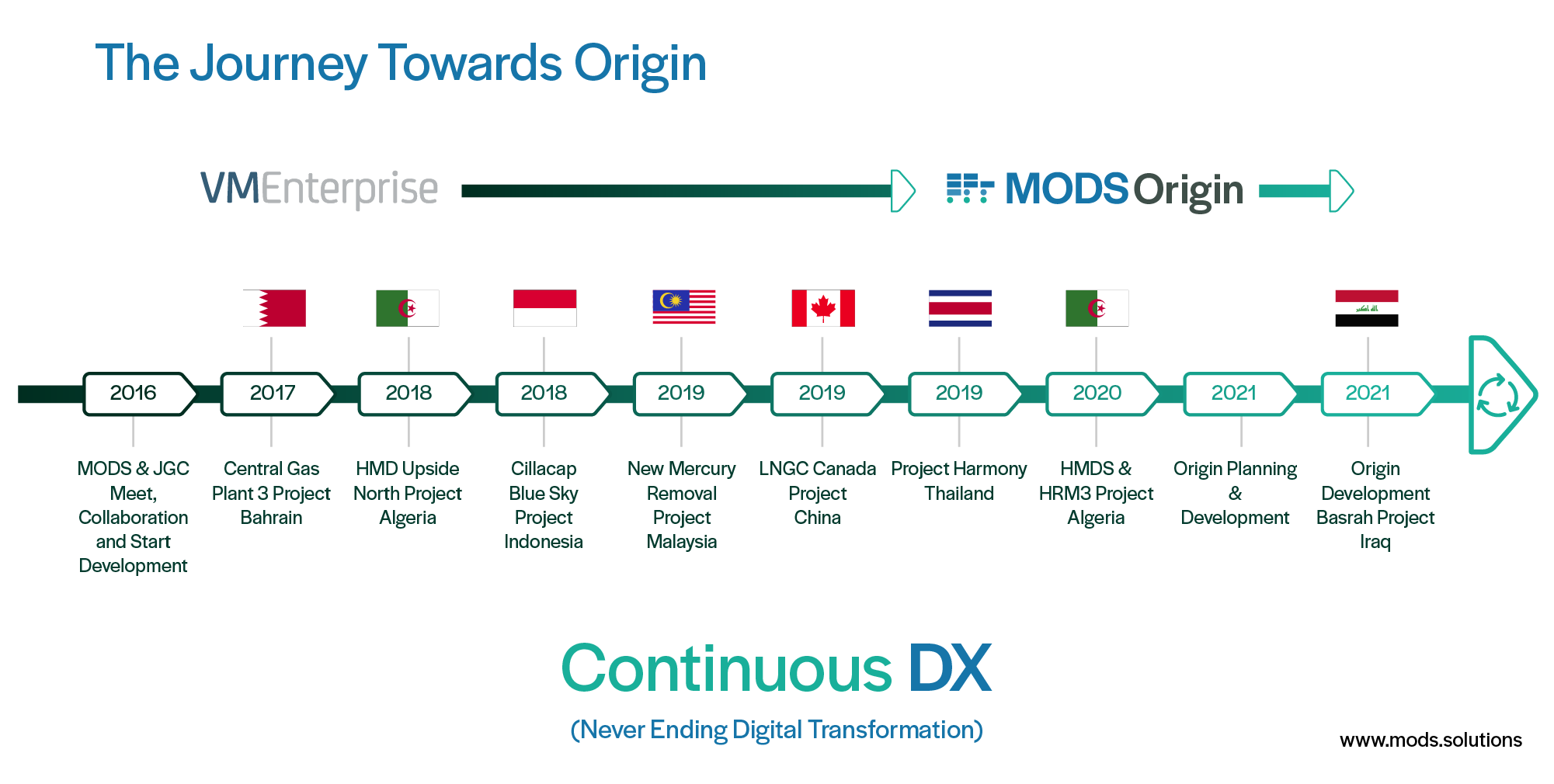 Significantly reducing capital expenditure helps achieve a sustainable profit structure. To do this, JGC asked how they can build plants as a lower cost without compromising on quality, as well as to reduce unnecessary costs.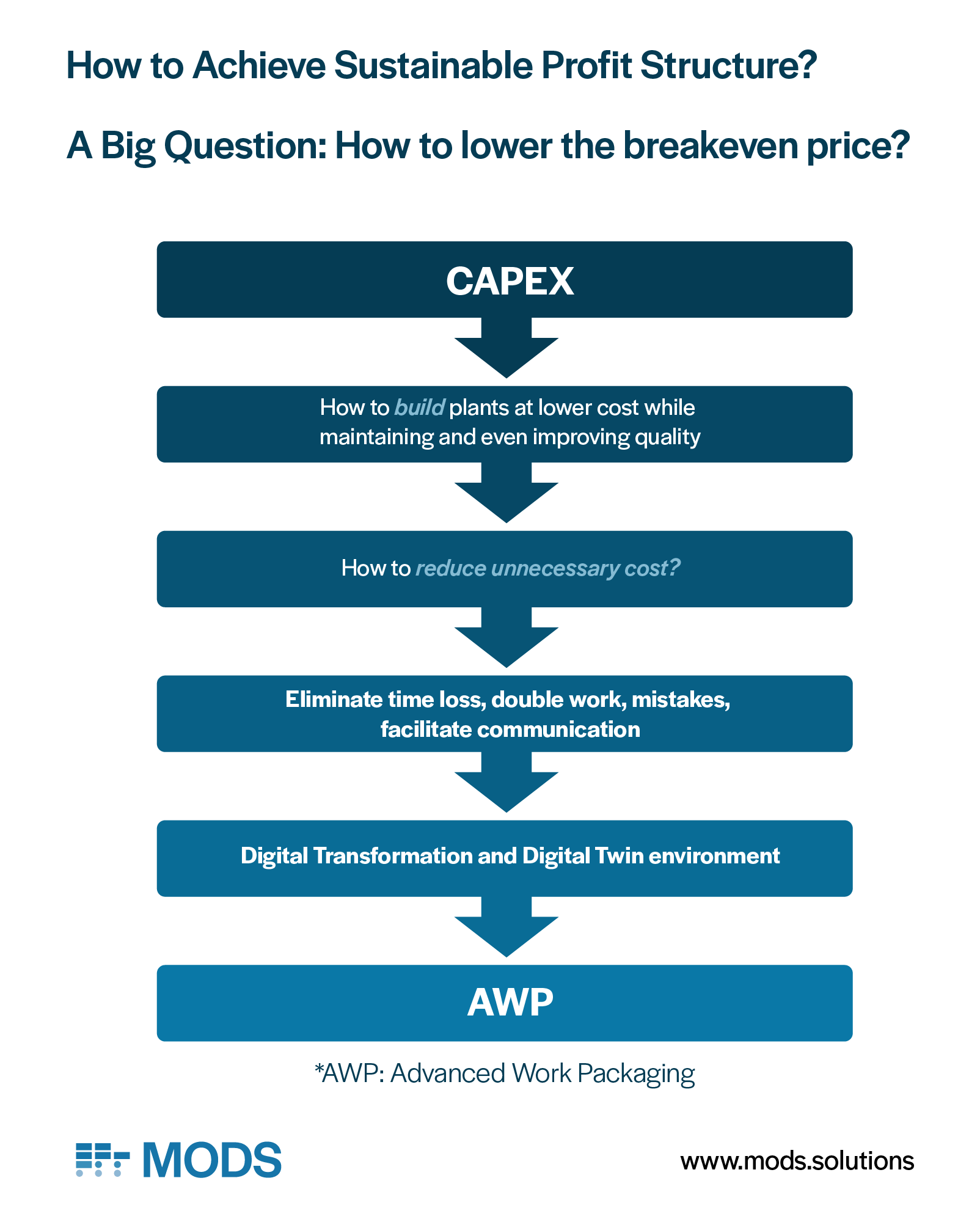 The solution was through AWP, a primary feature of MODS Origin.
What Is MODS Origin?
JGC spent many years developing and tweaking their internal construction management system. But this hybrid-digital system relied on the manual uploading of data. Paper was indispensable, exposing project work to the vulnerabilities of human error, lost data, delays in data entry, and an inability to easily share information with their clients and owners-operators.
MODS (developer of industrial software solutions) brought two compelling things to the table that elevated them above their more grandiose competition.
Field-based engineering experience integrated into their software solutions, which guarantees a fit-for-purpose application;
Agile and customizable digital solutions that adapt to the client's way of working, which meant that the value of JGC's internal construction management system remained in situ, but made better through full digitization with MODS Origin.
MODS Origin, which consists of six plug-and-play integrated modules, elevates construction execution through digitizing data and enabling advanced digitalized processes. Going paperless was of particular importance with JGC to optimize their existing in-house system through removing the need to manual data entry.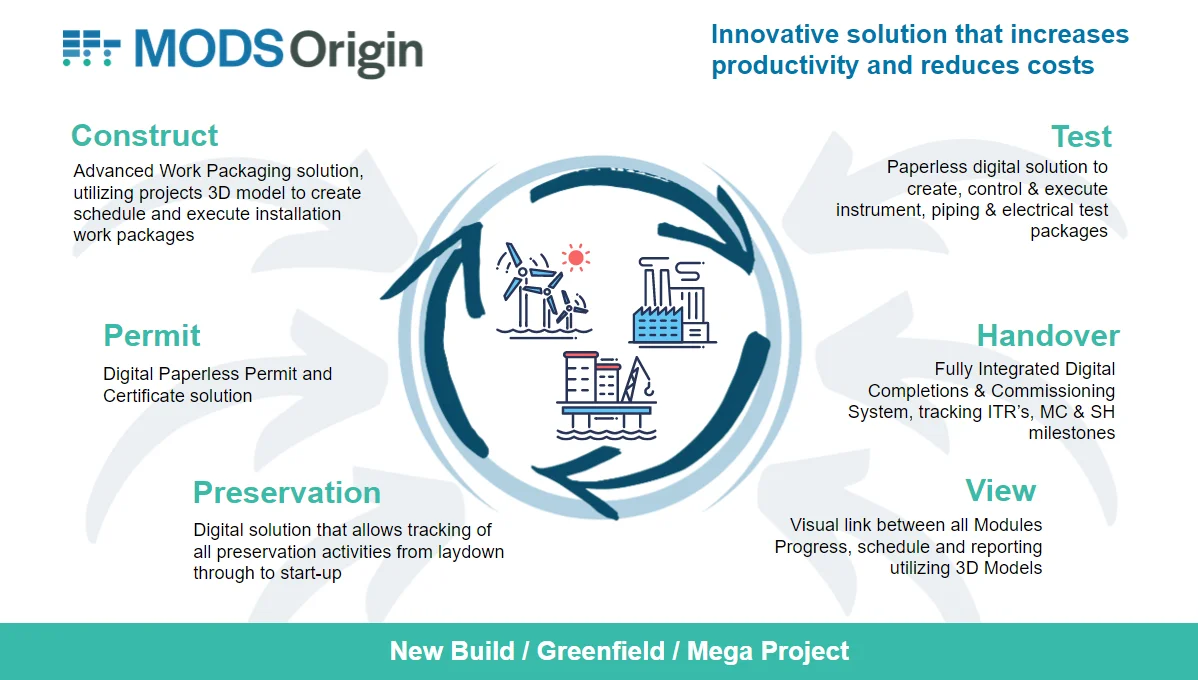 While JGC and MODS continue working collaboratively to introduce the additional modules, Construct and Test have already proved invaluable to JGC's ways of working.
MODS Origin: Construct Module
Construct is MODS's AWP solution, which easily creates digital work packages including up-to-date engineering drawings, construction tags, progress reporting, 3D views, all related deliverables and safety documentation. Construct brings together all of this data, which can be accessed from the web or on a mobile device.
MODS Origin: Test Module
Test is MODS's digital inspection package, which is broken down into three sub-modules: Test Piping, Test Loop and Test Energize. Test creates, controls, executes and archives test packages, all of which, again, are remotely accessible.
MODS Origin relies on a 3D visualization that integrates progress, scheduling and reporting, pulling data from both Construct and Test, as well as from JGC's in-house system.
Through the JGC-MODS partnership, MODS Origin has evolved into JGC's de facto construction execution solution for construction management and execution of complex greenfield and mega projects.
The Benefits: Lower Capital Expenditure and Increased Productivity
JGC's successful implementation of MODS Origin realized the following benefits:
Less time spent on creation of test packages, work packages and for inspections. For example, the combined time spent by supervisors, engineers and inspectors on piping inspection test packages went from 82 minutes to 22 minutes per test – a reduction of seventy percent, or one hour per test package. JGC has handled over 10,000 test packages since using MODS Origin Test module, without so much as a piece of paper, which saved 10,000 person hours.
Improved productivity of workers and inspectors. Thirty-five percent of time spent was saved due to a reduction in human error relative to JGC's previous paper-based systems. Thanks to the digital transformation delivered by MODS Origin, all inspection data became centrally stored and accessible, remotely, in real time – this eliminated superfluous meetings.
Significant reduction in capital expenditure of construction execution related to the reduced time needed to create test packages, for inspections and progress reporting. With MODS Origin piloted on an oil refinery expansion project (the Blue Sky Indonesia project) in 2015, the reduction in person hours equated to a savings in over USD 3 million.
More streamlined communication with both internal and external partners. Because MODS Origin fully integrated with JGC's proprietary construction management system, one universal and remotely-accessible database allowed for total transparency and a data-filled 3D visualization tool, which enables simple communication with offsite managers.
Improved forecasting ability with regards to schedule made possible through real-time information upload via mobile devices and 3D visual status updates.
Digital Transformation Through MODS Origin
JGC's digital transformation journey supports their commitment to contribute to planetary health through the three pillars of sustainability: economic, environmental and social.
Piloting digital transformation of construction execution processes through MODS Origin, the Construct module (featuring digital AWPs) visibly improved efficiency and productivity to immediate effect. In pursuit of their continued quest to cut waste and capital expenditure, JGC formalized a relationship with MODS to further develop industrial software solutions in collaboration.
Digitally transforming construction execution saved JGC an enormous amount of person hours. MODS Origin eliminated time spent on creating work packages and permits, identifying and correcting errors, trying to decipher what's really happening onsite, and investing time and energy to forecast future work in the midst of all these variables.
Reducing person hours alone, especially on this magnitude, impacts the bottom line on large-scale construction execution projects. JGC's partnership with MODS – an unlikely pairing at face value – has transformed both businesses, bringing them into a paperless future and fueling innovation and continued development of MODS Origin.
Having the same problem as JGC? Contact
for solution.