'Laser scanning and Dimensional control' – could be mistaken for an episode of the well-known series, 'Star Trek'. The informed Energy sector reader will, of course, know that these two processes are the keys to creating an accurate digital 3D picture of their facility and not the realms of fantasy television!  
Laser scanners capture incredible detail using a 360-degree view of an asset and produce bubble views and point clouds, in essence, 3D spatial data is collected. The use of laser scanning has become increasingly more prevalent in industrial settings where operators require an accurate, up-to-date, and verified data picture of their area. Original drawings and schematics may not be accurate, as alterations made during or after construction will not be shown.
Together with Dimensional Control, laser scans can produce a 3D model of the facility or area, as it stands at the time of scanning. Project managers looking to conduct modifications, retrofits or maintenance need this vital, as-built image, to help them navigate, plan, and execute their tasks safely. This is especially important when looking to attach new piping or equipment into limited spaces, engineers need to know the dimensional space they must design within. Facilities where dangerous and highly reactive products are harvested or produced, build their retrofits out with the facility, and fit the pre-assembled items later. Using incorrect data and dimensions as a basis for this would be nothing short of disastrous to any project, especially when shutdown time and costs are added.
Insufficient Facts Always Invite Danger
Having the ability to overlap plans onto the point cloud gives the final assurance that project measurements will fit with clearance to move, and any conflicts and clashes are avoided. The benefits of laser scanning are paying dividends across the Oil and Gas industry with many older plants and facilities reaping the rewards in safety, efficiency, time, and money. 
If you are a Star Trek aficionado, you may remember the famous words uttered by Mr. Spock: 'Insufficient facts always invite danger'. As the Starship's Science Officer, Spock clearly valued detailed data; FYI - laser scanning surveyors do too! However, the more detailed the data you desire, the more time it takes to acquire. Data density, as it is called, delivers highly accurate information but the trade-off is time and storage of this data. More scans may be required, and decisions must be made as to the sufficient data density required for the project. 
The Gift Of Accuracy
Geospatial technology has evolved enormously over the past two decades. 3D laser scanning equipment is now very portable and able to capture data in high definition, at high speeds and from a long range, affording clients the gift of accurate and timely collection of 3D measurements.
Capturing the as-built facility using 3D laser scanning technology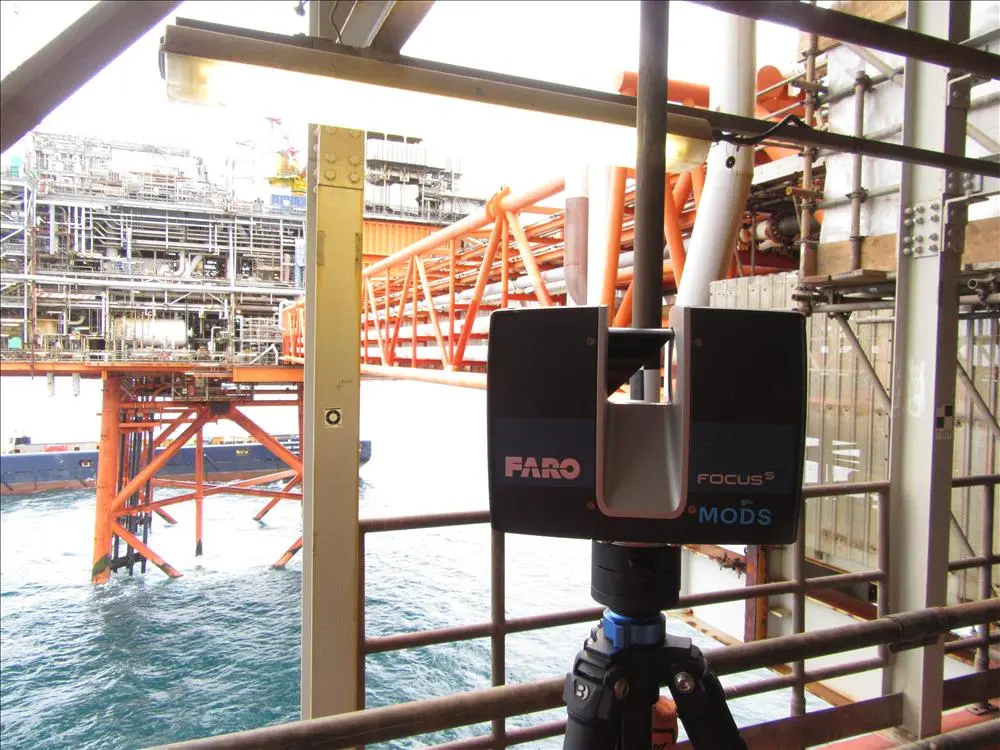 ultimately allows operators to maintain and lengthen the life of their aging facility. Creating a point cloud in conjunction with a 3D model pays dividends as fewer crews need to return to the field due to accurate information already being to hand. Using the 3D scan point cloud data with intelligent software and a digital twin allows operators to have multiple users employ the information, tag specific points and associate documents to them. This is invaluable when planning maintenance and small projects as multiple departments can add to and monitor progress.
A Surveyor's Foresight
MODS Survey Manager is  Andrew Wilson who has seen the potential and pitfalls of laser scanning first-hand: 
"Anyone can buy a scanner and push play – but as experience has proven, a surveyor's mindset and experience can often see things others cannot. 

MODS have been providing dimensional control and laser scanning services since 2002 and over this time we have developed effective procedures that optimize the planning and execution of projects of all sizes worldwide. We are all experienced dimensional surveyors and we, like the rest of us in this profession, started out with theodolites.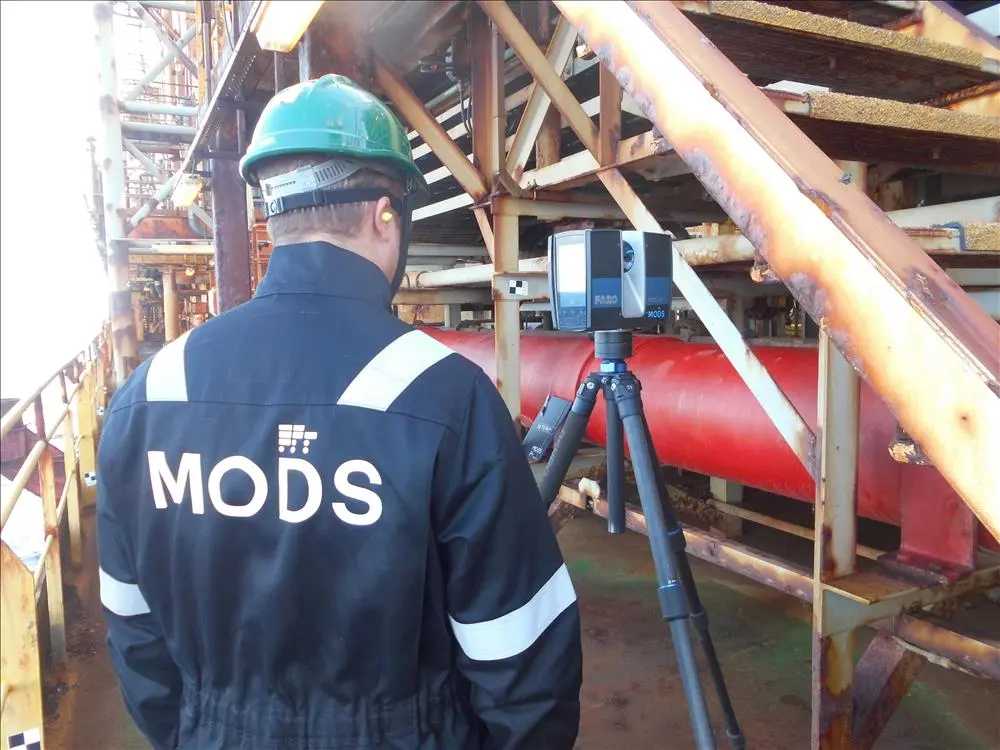 Light-Years Of Difference
Our software solution has a unique QR code system associated with the scanning targets. These can be used in our especially designed app, MODS REALITY, for finding and tagging items. 3D Laser scanning in construction phases would, of course, be ideal but for many existing facilities there's little digital data to hand. For those managing ageing facilities, laser scanning and a 3D model transform project management, there are light-years of difference between the original schematics of the facility and the up-to-date laser scan data of the as-built version they're working on. 

Taking the data one step further and maximizing its potential, is to adopt a tailored software – then you really have the power to control asset life-cycle, mitigate risks, enhance efficiencies, link in associated documents and reports, and ultimately rein-in costs". 
Maximize The Potential With Fit-For-Purpose Software
Andrew reiterates the need for industry-specific solutions in the Energy sector, the inspiration behind MODS Reality, and its ability to manage your project data, all linked to the 3D model and scan data. This includes the possibility to incorporate legacy point cloud data. Utilizing specifically designed software leverages real data while harnessing the power of up-to-date asset scans. This revolutionizes how projects are planned, executed, tracked and closed-out during maintenance and minor modifications.
Crucial project knowledge and fingertip control enables all involved with the project, full visibility, tractability, and informed decision-making powers. This ultimately increases business efficiency and operational integrity. 
Laser scanning together with dimensional control, facilitated by an intelligent, fit-for-purpose software will bring critical knowledge to life, maximize performance, increase profitability, and transcend project management to a whole new dimension. 
You want to talk with us about Laser scanning? Contact us and talk to one of our
.