The Evolution of the Digital Twin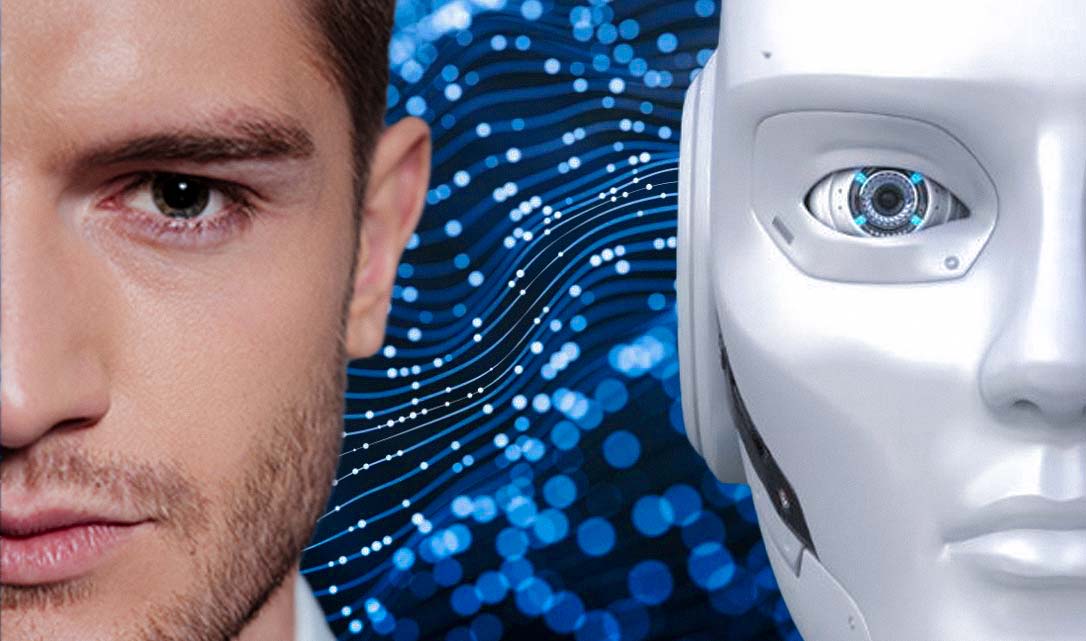 If the COVID-19 pandemic has taught us anything, it's that businesses must be able to function remotely. Industrial sectors may be more reticent to commit to a remote future, as on-the-ground assets or operations require technical oversight in order to be safe and quality-assured. Might the rapidly-evolving digital twin technologies be an antidote to this worry?
What Is Digital Twin Technology?
Digital twins allow for the remote visualization, monitoring and operation of their physical-twin counterparts such as assets, systems or processes. What exactly qualifies as a digital twin is both evolving and debatable. The technology itself is broad in scope and can be used to optimize design, streamline supply chains, perform predictive maintenance, plan staged decommissioning, and much more.
Digital twins' features and uses are wide-ranging, specific and customizable. These software solutions, however, are universally beneficial throughout the entire asset or process life cycle: systematizing decision making, enhancing safety, ensuring compliance, streamlining operations and reducing costs.
Digital Twin Software Solutions
Software-as-a-Service (SaaS) companies develop industrial digital twin products that place an abundance of data at the engineer's fingertips. These tools are user-centric, arming engineers and operators with immediate access to far more data than they could reasonably obtain manually, and all at the blink of an eye.
Digital twin software ranges in sophistication, running the gamut from descriptive schematics, to 3D visualizations, to artificial intelligence (AI). The latter includes the ability for the digital twin to anticipate issues and autonomously take corrective action without human intervention. While there's not much AI in today's digital twin landscape, it is rapidly approaching.
Digital twins including AI are slated to drive energy sector optimization. The ability to untangle massive volumes of data will prove increasingly important as, for example, energy companies face unprecedented pressures associated with increased energy production, decentralized power-generation trends and changeable compliance constraints.
Digital Twins in the Oil and Gas Market
The energy sector is hungry for industrial twin technology. Across sixteen industrial sectors including oil and gas, and throughout ten technologically mature regions including the United States, eighty-nine percent of companies believe that digital twin strategies will transform their approach to operational excellence.
In 2020, oil and gas assets accounted for one-third of the industrial-facility digital-twin market totaling USD 787 million. The largest market segment, infrastructure, included the use of digital twins for offshore-asset construction projects. Upon completion of the building phases, these digital twins would be modified and passed onto oil and gas operations.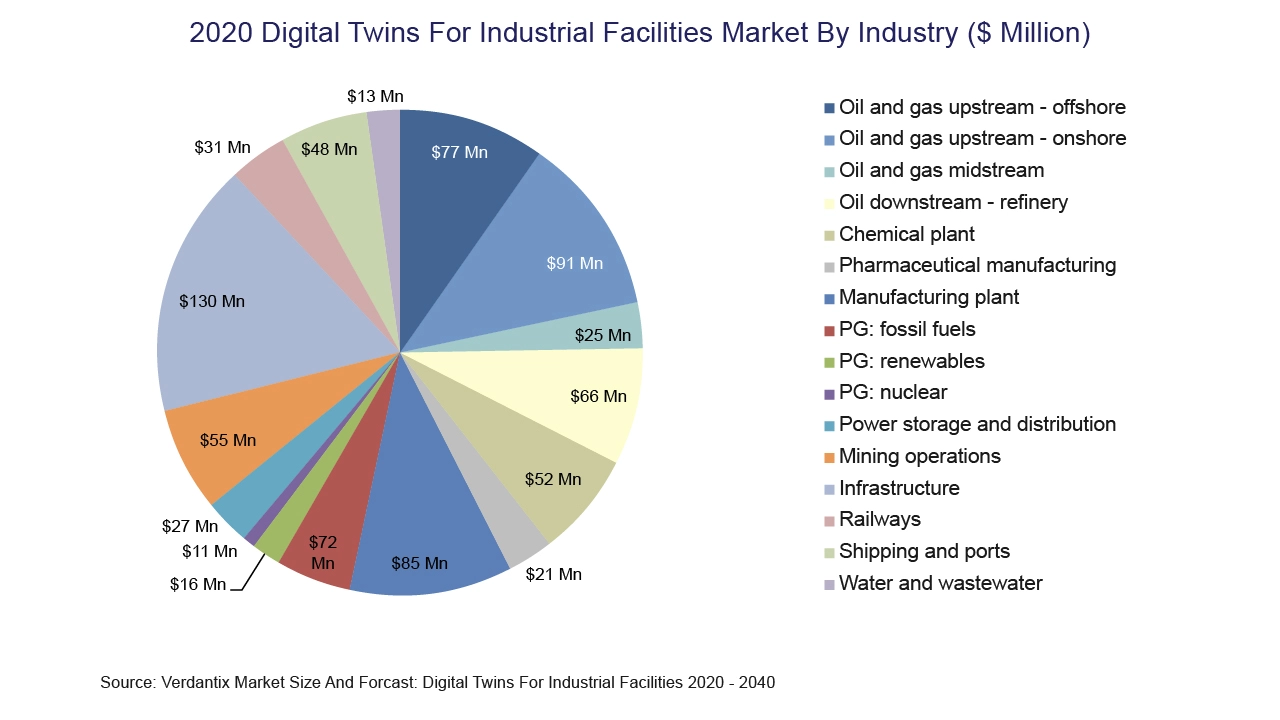 Source: Verdantix
This example reflects the holistic life-cycle of the technology from design-build through operation, maintenance, and even decommissioning if necessary. The adaptability of digital twin software effectively offers a one-stop shop for the management, oversight and operation of industrial projects soup to nuts.
As technological limitations reduce and as industry awareness of the technologies increases, the market is forecast to reach between USD 27 and 28 billion by 2040, including a stunning threefold increase expected over the first five years alone.
Renewables (including offshore wind and other greenfield projects) are currently experiencing the highest growth in industrial digital-twin uptake. Digital twin technology for brownfield projects, which face a different set of technical challenges, is continuously improving and is also anticipated to substantially increase in use over this decade.
The exploding industrial digital-twin market potential presents an opportunity for high-stakes sectors to modernize antiquated approaches that may compromise anything from health and safety to supply-chain efficiencies. Adopting digital twin technology ensures companies won't get left behind. But, how will engineers fare?
Digital Twins and Engineers of the Future
Digital twin technology, even if one includes the prospective use of AI, isn't expected to eviscerate the engineer's role but rather to modernize the engineer's mindset.
The more sophisticated industrial-facility digital twins have the ability to perform complex calculations, metabolizing swaths of data from a range of sources, reflecting both real-time conditions and possible scenarios. From cataloging information to 3D visualization and beyond, digital twin software is an extension of the engineer.
Humans need sleep, computers don't. Engineers are fallible, particularly under stress and fatigue. With digital twin products able to do the heavy lifting – mining for data and even predicting failures and problems in advance – the engineer steps away from crisis mode into ensuring asset reliability and best practices.
It is indeed an engineering marvel to metabolize inhuman amounts of data into a few keystrokes. The engineer's role may well transform from one of troubleshooting into the management of change, as asset and operational oversight steps into the future using digital twins.
The Digital Twin Impact
The COVID-19 pandemic has undoubtedly spurred many paradigm shifts. To think of a virus – a most primitive life form – accelerating digital evolution is nothing short of remarkable. As awareness of the industrial business case for digital twin technology increases, so too does industrial SaaS product refinement and sophistication.
Digital twin solutions like the MODS Reality put people first, equipping engineers and operators with everything they need for time-and-cost-efficient decision making.
Beyond that, the digital twin evolution is poised to transform energy exploration, production and delivery, driving industrial business models into the future. While energy sector companies stand to benefit, the oil and gas sector, specifically, is on the precipice of revolution in the context of Oil & Gas 4.0.
Want to know more about digital transformation? Go check out our Digital transformation - everything you need to know.